Polidoro Da Lanciano
Tweet
Italy
(
1515
- &nbsp
1565
)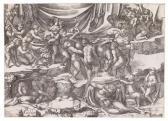 Palais Dorotheum
Mar 28, 2018
Find artworks, auction results, sale prices and pictures of Polidoro Da Lanciano at auctions worldwide.
Go to the complete price list of works
Follow the artist with our email alert
Variants on Artist's name :
Lanciano Da Polidoro
Renzi De Polidoro Da Lanciano
Some works of Polidoro Da Lanciano
Extracted between 59 works in the catalog of Arcadja
LA BIOGRAFIA DI Polidoro Da Lanciano
POLIDORO DA LANCIANO Polidoro de Renzi detto (Lanciano, Chieti, 1515 - Venezia, 1565).
L'artista fu molto attivo a Venezia, dove la sua opera subì l'influenza dell'arte di Tiziano.
Tra le sue opere ricordiamo: "Maternità", "Madonna e Santi" e "Adorazione del Bambino".