Aleksandr Poliakov
Tweet
(
1801
- &nbsp
1835
)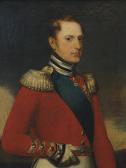 Some works of Aleksandr Poliakov
Extracted between 1 works in the catalog of Arcadja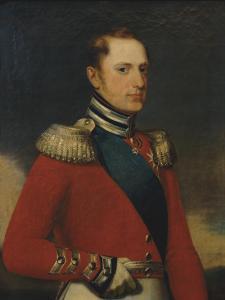 Original 1829
Lot number:
329
Other WORKS AT AUCTION
Description
:
Aleksandr Poliakov (1801-1835)
Portrait of Emperor Nicholas I
signed in Cyrillic and dated 'A. Poliakov. 1829' (lower left)
oil on canvas
35¼ x 27¼ in. (89.5 x 69.2 cm.)
Pre-Lot Text
THE PROPERTY OF A GENTLEMAN
Provenance
Acquired from Blanca Orlandis Habsburgh, Arch-Duchess of Austriaand Lorraine.
By descent to the present owner.
Lot Notes
The present portrait is painted after that executed by GeorgeDawe in the early 1820s (see Rovinskii, Dictionary of Russianengraved portraits, St Petersburg 1887, vol. 2, p. 1360, no. 39).Aleksandr Poliakov, along with Vasilii (Wilhelm) Golicke, workedalongside Dawe in his studio.
The Emperor Nicholas I is wearing the red dress of theChevaliers-Gardes regiment. This particular uniform was wornbetween 1815 and 1829.
We are grateful to Gerard Gorokhoff for his assistance incataloguing the present work.