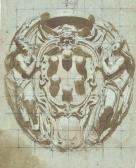 Christie's
Jul 5, 2005
Find artworks, auction results, sale prices and pictures of Bernardino Poccetti at auctions worldwide.
Go to the complete price list of works
Follow the artist with our email alert
Variants on Artist's name :
Barbatelli Il Poccetti Bernardino
Bernardo Barbatelli, Dit Il Poccetti
Along with Bernardino Poccetti, our clients also searched for the following authors:
Juan De Arellano Y Francisco Camilo
,
Caspar Netscher
,
Mario Sironi
,
Vlastimil Kosvanec
,
Florentine School
,
Umberto Boccioni
,
Giovanni Battista Salvi
,
Pier Francesco Mola
,
Roberto Gaetano Crippa
,
Antonio Possenti
,
Ubaldo Gandolfi
Some works of Bernardino Poccetti
Extracted between 34 works in the catalog of Arcadja
LA BIOGRAFIA DI Bernardino Poccetti
POCCETTI Bernardino Barbatelli (Firenze 1548-1612).
L'artista venne influenzato dall'opera di D.
Beccafumi, Andrea del Sarto e Franciabigio operando ancora nella fase del manierismo toscano.
Tra le sue opere ricordiamo: gli affreschi nel chiostro grande di Santa Maria Novella, le "Storie di San Bruno" nella certosa del Galluzzo e le "Storie dei Granduchi" a Palazzo Pitti.