Karl Karlovich Piratsky
Tweet
(
1813
- &nbsp
1871
)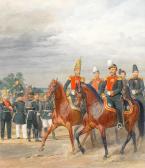 Some works of Karl Karlovich Piratsky
Extracted between 1 works in the catalog of Arcadja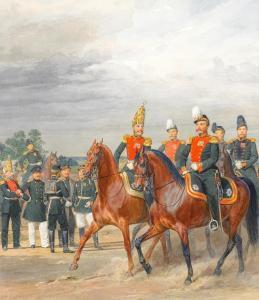 Original
Lot number:
38
Other WORKS AT AUCTION
Description
:
- Karl Karlovich Piratsky
(1813-1871)
Mounted Officers and Men
Watercolour with touches of gouache on the epaulettes, cuffs, helmets and horses' reins
39.7 x 34.4 cm.
Piratsky studied at the Imperial Academy under Sauerweid and specialized in battle scenes. In 1835 he was commissioned by Nicholas I to make a copy of Franz Kruger's large canvas Nicholas I and his suite, and he was appointed Court painter in the following year. In 1838 he received the commission to provide watercolours for the "Historical description of the uniforms and weapons of Russian soldiers, compiled according to the wish of His Majesty". When, in 1855, the Ministry of War founded a department of Military History, Piratsky was appointed head of its drawing department. In 1869 he was made professor of the Imperial Academy.
Piratsky remains a little known figure, whose extraordinary virtuosity in watercolour was well suited to depicting the precise details of military life glorified in the reign of Nicholas I. For a painting by him in the Russian Museum, see Grigorii Goldovsky et. al., 100 Unknown pictures from the reserve of the Russian Museum, St. Petersburg, 1998, p.132.