Giovanni Battista Piranesi
Tweet
Italy
(
Mozano Di Mestre
1720
-&nbsp
Roma
1778
)&nbsp-&nbsp
Prints
Wikipedia® - Giovanni Battista Piranesi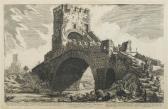 Bonhams /
May 18, 2014
€1,093.37 - €1,457.83
Not Sold

Find artworks, auction results, sale prices and pictures of Giovanni Battista Piranesi at auctions worldwide.
Go to the complete price list of works
Follow the artist with our email alert
Variants on Artist's name :
Piranese Jean-Baptiste
Piranesi Giambattista
Piranesi I.B.
Along with Giovanni Battista Piranesi, our clients also searched for the following authors:
Antonio Canal Canaletto
,
Henri, Le Douanier Rousseau
,
Zinaida Yevgenievna Serebriakova
,
Giuseppe Zigaina
,
Mirko Basaldella
,
Joan Miro
,
Getulio Alviani
,
Michele Cascella
,
Wassily Kandinsky
,
Pablo Picasso
,
Roberto Gaetano Crippa
Some works of Giovanni Battista Piranesi
Extracted between 2,128 works in the catalog of Arcadja
LA BIOGRAFIA DI Giovanni Battista Piranesi
PIRANESI Giovanni Battista (Maiano di Mestre, Venezia 1720 - Roma 1778).
L'artista si formò inizialmente a Venezia a contatto con il classicismo palladiano dell'epoca.
Nel 1740 si trasferisce a Roma dove, nel 1743, pubblica il ciclo di incisioni "Prima parte di architetture e prospettive".
Ne esce una versione ampliata nel 1750 "Opere varie di architettura".
L'artista si dedicò per quasi trent'anni (1748-1775) alla realizzazione delle "Vedute di Roma".
Si interessò di Arte greca ed etrusca e si occupò di architettura.
Realizzò la "Villa", la "Piazza" e la "Chiesa dei Cavalieri di Malta" Sull'Aventino (1764-1766).Tra le sue opere ricordiamo anche "Grotteschi e capricci" (1745), "Antichità romane" (1756) e "Vasi candelabri, cippi...
"(1778).