Aldobrando Piacenza
Tweet
United States
? Century -&nbsp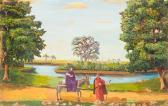 Leslie Hindman
Dec 15, 2017
Find artworks, auction results, sale prices and pictures of Aldobrando Piacenza at auctions worldwide.
Go to the complete price list of works
Follow the artist with our email alert
Variants on Artist's name :
Aldo
Some works of Aldobrando Piacenza
Extracted between 2 works in the catalog of Arcadja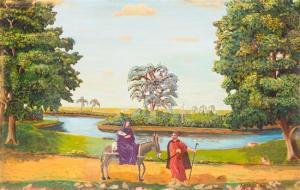 Original
Lot number:
47
Other WORKS AT AUCTION
Description
:
Aldobrando "Aldo" Piacenza (American, 1988-1976) Mediteting A Rest oil on canvas signed A. Piacenza (bottom right) 26 x 40 inches. There is a 3 inch diameter bulbous dent in the middle top of the bottom left quadrant of the work. There are cracks throughout the painting along with crazing in the left and right major trees. There is a 1 1/2 inch long scratch in bottom right quadrant just at the trunk of the tree. There is a spatter of liquid or paint over the top main cloud. On bottom left some canvas warp of corner edge over stretcher. Painting has general dirt and grime consistent with its age.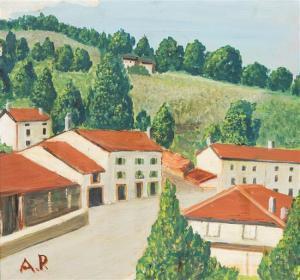 Original
Lot number:
46
Other WORKS AT AUCTION
Description
:
Aldobrando "Aldo" Piacenza (American, 1988-1976) Untitled oil on panel signed AP 16 x 16 inches