Therese Philosophe
Tweet
? Century -&nbsp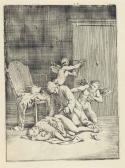 Some works of Therese Philosophe
Extracted between 1 works in the catalog of Arcadja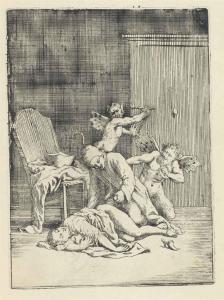 Follower
Lot number:
43
Other WORKS AT AUCTION
Description
:
THERESE PHILOSOPHE – Histoire du Père Jean Baptiste Girard, Jésuite & recteur du college de la Marine à Toulon, et de la damoiselle Marie Caterine Cadiere. Paris: Gissey de Bordelet, n.d. [c.1730s.]

Quarto (275 x 195 mm). Printed title and 32 engraved plates on variously watermarked paper. (Minor marginal soiling.) Contemporary mottled calf, sides with a scrolling border in blind, spine with raised bands, one compartment with blue leather label gilt, the others centred with a flower in gilt, edges red, elaborate and variously coloured floral buntpapier (extremities rubbed, sides scuffed). Provenance: indistinct wax seals on the title and front endpaper.

A RARE SUITE OF PLATES RELATING TO THE NOTORIOUS AFFAIR WHICH INSPIRED THÉRÈSE PHILOSOPHE: AN ICON OF 18TH-CENTURY LIBERTINISM
. The trial which followed the alleged corruption of a parishioner by Girard was the scene of lurid and hysterical testimony, with Catherine accusing the Jesuit of witchcraft and \'spiritual incest\'\'\'\'. Twelve of the jurors, one shy of majority, voted for Girard to be burned alive. Girard was acquitted, but the case captured the public imagination and featured in much writing into the 19th-century, with Girard the enduring target of anti-Jesuit barbs, and the archetype of ecclesiastical corruption. The title-page gives Paris as the place of publication, but this leaf is printed on paper watermarked with the arms of the city of Amsterdam suggesting that this may be a false imprint. WorldCat locates only one copy, at the Bibliothèque nationale de France, which lacks the title-page. AE and ABPC record only one copy at auction, probably the same defective copy which is now in the BnF. Dutel A-556.