Jeremiah Paul
Tweet
(
1761
- &nbsp
1820
)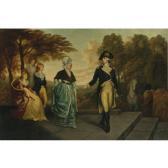 Some works of Jeremiah Paul
Extracted between 1 works in the catalog of Arcadja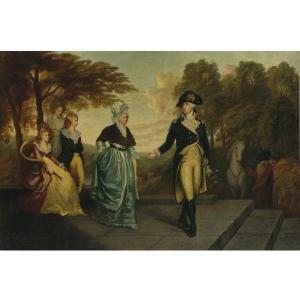 After -
Lot number:
84
Other WORKS AT AUCTION
Description
:
LOT 84
PROPERTY OF THE JAMES S. COPLEY LIBRARY
AFTER JEREMIAH PAUL
1761 - 1820
GEORGE WASHINGTON LEAVING HIS FAMILY
25,000—35,000 USD
measurements
measurements
46 by 67 in.
alternate measurements
(116.8 by 170.2 cm)
Description
oil on canvas
PROVENANCE
Hirschl & Alder Galleries, New York, by 1978Acquired by the present owner from the above
CATALOGUE NOTE
Jeremiah Paul's 1798 painting of George Washington Leaving hisFamily was sent to England in 1800 to be copied by engraver EdwardBell. Numerous copies of the engraved scene were produced duringthe nineteenth century, each exhibiting distinct differences inbackground, pose, coloration and shading. An old inscription on the reverse reads "This is a portrait ofGeneral George Washington and his wife Martha. Her daughter...[undecipherable] ... Her son Jacky Custis ... To the right isBilly Lee, the General's faithful Negro servant."