Ottavio Padovanino
Tweet
Italy
(
Padua
1582
- &nbsp
1634
)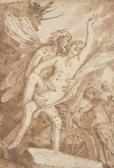 Some works of Ottavio Padovanino
Extracted between 1 works in the catalog of Arcadja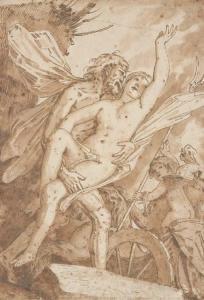 Original
Lot number:
47
Other WORKS AT AUCTION
Description
:
Ottavio Padovanino (Padua 1582-1634)
The Abduction of Proserpine
with inscription '86 No30 Cartelle 5 Disegno 10' on the mount
black chalk, pen and brown ink, brown wash, on an 18th Centurymount, possibly English
15 x 10½ in. (382 x 268 mm.)
Provenance
An unidentified collector's mark fleur-de-lys in a shape, withassociated number 'No. 54.' (not in Lugt).
Lot Notes
Although drawings by Padovanino are extremely scarce, thepresent drawing can be convincingly attributed to his hand throughcomparison with his paintings. Closest is the Rape of Proserpine inthe Accademia, Venice (U. Ruggeri, Il Padovanino, Soncino, 1993,no, 9), in which the strong forms, characteristic facial types andthe clear and careful modulation of the outlines are all related tothe handling of the present drawing.