A.S Packer
Tweet
United States
(
Chicago
1901
- &nbsp
1999
)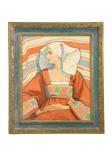 Some works of A.S Packer
Extracted between 1 works in the catalog of Arcadja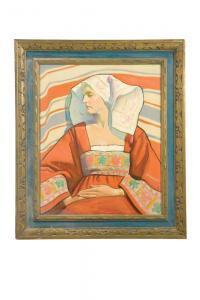 Original 1932
Lot number:
342
Other WORKS AT AUCTION
Description
:
PORTRAIT BY (CHICAGO,1901-1999).
Oil on canvas, signed lower right. Later title on back
Portraitof Ruth Alderfer in Costume, Cleveland 1932
. Rebacked on panel.22 1/4"h. 18"w., in a gilt frame, 28 1/2"h. 24 1/1"w.
Estimate $ 350-650
Regarding the shipping of firearms and or weapons: please beaware that many restrictions apply to the international shipment offirearms, antique or otherwise. Your winning bid will not becanceled, rescinded, or retracted due to an international shippinglimitation. It is your responsibility to resolve shipping issuesPRIOR to bidding in this (or any other) auction.