Pieter Oyens
Tweet
Netherlands
(
1842
- &nbsp
1894
)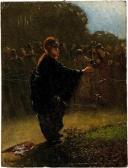 Kornfeld
Jun 15, 2018
Some works of Pieter Oyens
Extracted between 23 works in the catalog of Arcadja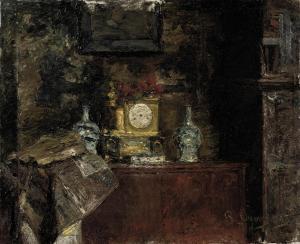 Original 1880
Lot number:
65
Other WORKS AT AUCTION
Description
:
Pieter Oyens (1842-1894)
The Corner of an Interior
signed and dated 'P: Oyens '80' (lower right)
oil on canvas
28 x 34 cm., unframed
Provenance
Anonymous sale, Christie's, Amsterdam, 7 February 1996, lot192.
Literature
P.M.J.E. Jacobs, Beeldend Benelux. Biografisch handboek, Tilburg2000, p. 550. Fred Hendriks, De Gebroeders Oyens, Zwolle 2008, ill. (onadditional CD-rom).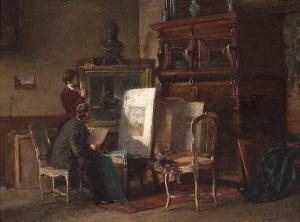 Original 1891
Lot number:
4082
Other WORKS AT AUCTION
Description
:
Pierre Oyens (Dutch 1842-1894)
In the artist's studio
signed and dated 'P. Oyens 1891.' (lower right)
oil on canvas
29 1/2 x 39 1/4in (75 x 99.7cm)
Additional Notes:
Note:
There is an old label verso inscribed 'Pierre Oyens Atelier tableau appartenant a Madame Pierre Oyens 82 Av. Longchamps [...] valeur d'assurance: 600 francs.'