Carl Oderich
Tweet
(
1856
- &nbsp
1915
)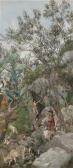 Palais Dorotheum
Feb 6, 2012
Some works of Carl Oderich
Extracted between 2 works in the catalog of Arcadja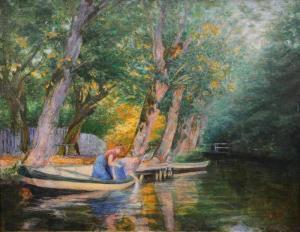 Original 1915
Lot number:
82
Other WORKS AT AUCTION
Description
:
Oderich, Karl

(Hagenow 1856 - Hamburg 1915)

Washerwomen at the Alster

Oil/canvas, 58,5 x 74 cm, lo. ri. sign. Oderich. - Exh.: Museum Hagenow 2006. - History, portrait a. landscape painter, master student of H. Makart in Vienna, before he studied at the Karlsruhe academy under des Coudres a. Gussow as well as in Berlin under Wolff a. Schaper, in 1886/87 he travelled Egypt, became a successful portrait painter of the Vienna aristocracy a. portrait painter of the local upperclass after moving to Hamburg in 1894. - Mus.: Hamburg (Kunsthalle, Mus. f. Hamburg. Gesch.). - Lit.: Boetticher, Thieme-Becker, Bénézit, Rump, Der Neue Rump a. others.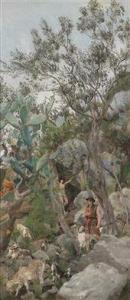 Original 1888
Lot number:
136
Other WORKS AT AUCTION
Description
:
Carl Oderich
(Hageman 1856-1915 Hamburg)

The Nymph of Capri,

signed,

inscribed and dated C. Oderich Capri 8 (18)88 (partially covered by frame),

oil on canvas,

179 x 80 cm,

framed,

(W)
Specialist: Dr. Christl Wolf