Hermann Nitsch
Tweet
Austria
(
Vienna
1938
)&nbsp-&nbsp
Artworks
Wikipedia® - Hermann Nitsch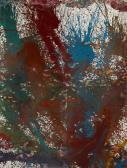 Bonhams /
May 12, 2015
€22,253.54 - €29,671.39
Not Sold

Along with Hermann Nitsch, our clients also searched for the following authors:
Tano Festa
,
Mario Schifano
,
Mimmo Rotella
,
Valerio Adami
,
Franco Angeli
,
Lyonel Charles Feininger
,
Agostino Bonalumi
,
Pino Pascali
,
Vincenzo Agnetti
,
Donald Baechler
,
Piero Gilardi
Some works of Hermann Nitsch
Extracted between 1,265 works in the catalog of Arcadja
LA BIOGRAFIA DI Hermann Nitsch
Herman NITSCH , artista austriaco, nasce a Vienna nel 1938.
Dal 1957 si dedica alla concezione del suo "Orgien Mysterien Theater", il teatro delle orge e dei misteri; "Orgien Mysterien Theater" coinvolge tutti e cinque i sensi e, con intenti freudianamente liberatori, gli elementi profondi affiorano attraverso uno stato di eccitazione psico-fisica.
I primordiali istinti umani, che l'artista ritiene repressi dalle norme e dalle imposizioni sociali, riemergono durante le sue performance; ricorda l'artista: "il colore della carne, del sangue e delle interiora era diventato importante.
Dominava il rosso.
Il monocromatismo assunse un ruolo arcaico.
Tutto si orientava verso il colore dell'estasi, della vittima del sacrificio, della passione, del sangue, della carne".
Nel 1961, con Günter Brus e Otto Müehl, a cui si aggiungerà Rudolf Schwarzkogler, forma il gruppo artistico del "Wiener Aktionismus" (Azionismo Viennese), importando in Austria le tematiche della pittura gestuale.
Blood Organ è il titolo della prima "Aktion" messa in scena alla Parinetgasse nel 1962 a cui ne seguono più di un centinaio, portando con sé anche vari processi e tre pene detentive.
Nel 1971 acquista come luogo cultuale delle sue Azioni il castello di Prinzendorf an der Zaya a sessanta chilometri da Vienna.