Patrick, Peter Nasmyth
Tweet
(
1787
-&nbsp
1831
)&nbsp-&nbsp
Artworks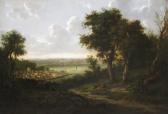 Woolley & Wallis /
Jun 15, 2011
€4,547.01 - €6,820.51
Not Sold

Along with Patrick, Peter Nasmyth, our clients also searched for the following authors:
Pompeo Mariani
,
Alexander Nasmyth
,
Lodovico Zambeletti
,
Michelangelo Pace Da Campidoglio
,
Pier Francesco Mola
,
Carlo Grubacs
,
Antoine Gadan
,
Marco Ricci
,
Abraham Cooper
,
Giacomo Guardi
,
Paul Cezanne
Some works of Patrick, Peter Nasmyth
Extracted between 247 works in the catalog of Arcadja
LA BIOGRAFIA DI Patrick, Peter Nasmyth
NASMYTH Patrick Milner (Edimburgo 1787- Lambeth,Londra, 1831)pittore scozzese.
Pittore noto per la rappresentazione di paesaggi e ritratti, figlio e allievo di Alexander Nasmyth.
Nel primo decennio dell'Ottocento si trasferisce a Londra, dove si concentra sulla produzione pittoreschi paesaggi, minuziosamente ritratti, vicini al gusto fiammingo dei secc.XVII e XVIII , molto apprezzati dai suoi contemporanei.