Harada Naojiro
Tweet
(
1863
- &nbsp
1899
)

Von Zengen
Nov 26, 2009
Some works of Harada Naojiro
Extracted between 3 works in the catalog of Arcadja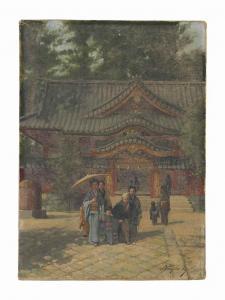 Original
Lot number:
59
Other WORKS AT AUCTION
Description
:
Harada Naojiro (1863-1899) A Shrine Visit Signed Naojiro H Oil on canvas 17 1/8 x 12 3/8 in. (43.5 x 31.4 cm) A young boy leaves the main building of Toshogu Shrine in Ueno Park, Tokyo, flanked by his mother and grandmother, with other family members following behind. This undated painting is very close in composition and style to Harada''''''''s 1891 oil painting of a family group at Toshogu Shrine sold at Christie''''''''s, New York, on November 10, 2000. The latter, now in the Okayama Prefectural Art Museum, was featured in the important 2016 retrospective of Harada''''''''s work shown at four major Japanese museums. Harada was among the first generation of Japanese artists trained in the West in the late nineteenth century. He had a spectacular but all-too-short career, dying at the age of thirty-six. His childhood was privileged. Harada''''''''s father, a samurai who accompanied several government missions to Europe, wanted his son to have an international outlook. Harada learned French from childhood, began studying painting at age eleven and at age twenty became a student of Takahashi Yuichi (1826–1894), one of the first Western-style painters in Japan. A year later, in 1884, Harada went to Germany (following in the footsteps of his older brother), studied at the Munich Academy of Fine Arts and took private lessons with Gabriel von Max (1840–1915). One of Harada''''''''s most famous paintings is a brooding, romanticized 1886 oil portrait of a German shoemaker, a registered Important Cultural Property in the collection of the Tokyo University of the Arts. Returning to Japan in 1887, Harada opened a private school at his home in 1889, promoting the next generation of modern, Western-style painters, including Wada Eisaku, at a time when many were already advocating a return to traditional Japanese art. In fact, when Tokyo University of the Arts opened in 1889, no course in Western-style painting was offered.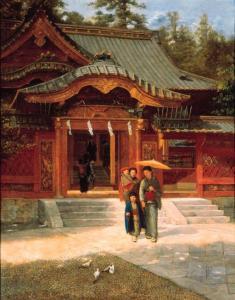 Original 1889
Lot number:
7
Other WORKS AT AUCTION
Description
:
Harada Naojiro (1863-1899)
Family at Toshogu Shrine
Signed and dated Naojiro H. 1889 Tokio
Oil on canvas
29 1/2 x 23 3/8in. (75 x59.4cm.)
Pre-Lot Text
ANOTHER PROPERTY
Lot Notes
This scene probably depicts the artist and his family departing Toshogu Shrine, Ueno Park, Tokyo, a site close to their home. A portrait of the artist painted by Julian Exter, a fellow student in Germany under Gabriel Max at the Munich Academy in the mid 1880s, bears a striking resemblance to the male figure in this painting, and the two children appear to be the age of Harada's in 1889. Admired for highly realistic and romantic works, this painting by Harada is a more intimate portrayal of a family outing.