N.A.S.A.
Tweet
Follow the artist with our email alert
XX-XXI Century -&nbsp
Artworks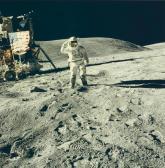 Christie's /
Oct 4, 2012
€775.43 - €1,163.15
€2,895.38
Find artworks, auction results, sale prices and pictures of N.A.S.A. at auctions worldwide.
Go to the complete price list of works
Variants on Artist's name :
Nasa
National Aeronautics And Space Administration
Some works of N.A.S.A.
Extracted between 176 works in the catalog of Arcadja