N.A.S.A.
Tweet
XX-XXI Century -&nbsp
Artworks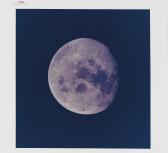 Palais Dorotheum /
Jun 22, 2015
€600.00 - €800.00
€375.00

Find artworks, auction results, sale prices and pictures of N.A.S.A. at auctions worldwide.
Go to the complete price list of works
Follow the artist with our email alert
Variants on Artist's name :
Nasa
National Aeronautics And Space Administration
Some works of N.A.S.A.
Extracted between 1,064 works in the catalog of Arcadja