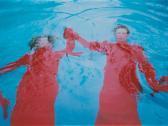 Auctionata
Jan 31, 2014
Some works of Moni Muller
Extracted between 2 works in the catalog of Arcadja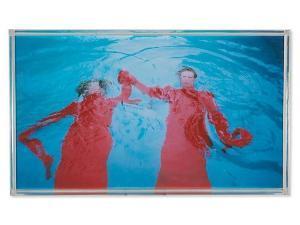 Original 1998
Lot number:
110
Other WORKS AT AUCTION
Description
:
Description:
Coloured photograph mounted on Kapa plate
Germany, 1998
Moni Müller - German artist
Verso titled, dated and signed with 'Versuch über das Synchrone ('Attempt of the Synchrone') '98 Müller'
Dimensions framed: 118 x 200 cm
Good condition
The enormous photograph 'Attempt of the Synchrone' is a work by the German artist Moni Müller from 1998. Two women in bright red overalls are reflected on the surface of the water in a swimming pool. Müller's photography concerns itself with the beauty of the perishable. This photograph captures a fleeting moment that has no real existence. The water is in motion which means that the composition is equally in motion and does not stay the same.

The photograph is in good condition. It is mounted on Kapa plate and framed. The dimensions framed are 118 x 200 cm and the dimensions of the image are 109 x 192 cm. The work is titled, dated and signed on the reverse with 'Versuch über das Synchrone ('Attempt of the Synchrone') '98 Müller'.

Moni Müller
Moni Müller was born in Düsseldorf, Germany. She passed her state examination in 1975. A scholarship from DAAD granted her a yearlong study abroad in Scotland between 1971 and 72. Between 1976 and 1979 she worked as a teacher. As off 1984 she fully focused on her art work. She worked on a six-yearlong art project between 1994 and 200 in collaboration with the artist Heidi Schröter. In the year 2000 Müller opened a 'inspiration studio' and starts to work on an artistic conception of space. Since 2003 she has been part of the Galerie OMC in Düsseldorf, who are now in Los Angeles. She lives and works in Düsseldorf.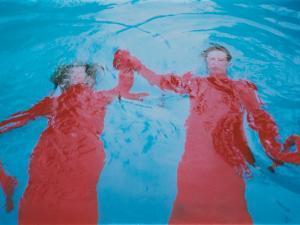 Original 1998
Lot number:
83
Other WORKS AT AUCTION
Description
:
Moni Müller, \'Attempt of the Synchrone\'\' , signed, 1998
Coloured photograph mounted on Kapa plate Germany, 1998 Moni Müller – German artist Verso titled, dated and signed with \'Versuch über das Synchrone (\'Attempt of the Synchrone\'\'\'\') \'\'\'\'98 Müller\'\'\'\' Dimensions framed: 118 x 200 cm Good condition