Gustav A Muller Koburg
Tweet
(
1828
- &nbsp
1901
)
Christie's
Jun 19, 2012
Some works of Gustav A Muller Koburg
Extracted between 2 works in the catalog of Arcadja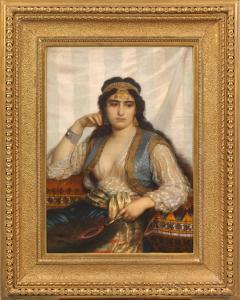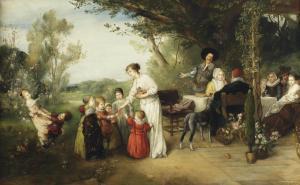 Original
Lot number:
606
Other WORKS AT AUCTION
Description
:
Gustav A. Müller-Koburg (Hildburghausen 1828-1901 Rome) Afternoon picknick with three generations signed 'G. Müller.' (lower right) oil on canvas 95,3 x 151.5 cm.
Since the 1950's in the family of the present owner.
The present painting holds a special position within the oeuvre of Gustav Adolf Müller-Koburg, whose artistic career was dedicated entirely to genre and portrait painting. The painting exactly repeats Fritz August von Kaulbach's Ein Maientag (A day in Spring), of 1879, whic is considered the first major work of Kaulbach and was acquired in 1879 by the Staatliche Kunstsammlungen Dresden (see K. Zimmermann, Friedrich August von Kaulbach 1850-1920, Monographie und Werkverzeichnis, Munich 1980, p. 163, no. 614). Why the elder Müller-Koburg copied a painting by Kaulbach, is not known. At the time the present lot was painted, he lived in Rome, where he had settled in 1860 to become professor at the Academy Saint Luca, after a successful career with sojourns in Portugal and London.