Cestmir Mudrunka
Tweet
(
1935
)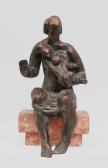 Find artworks, auction results, sale prices and pictures of Cestmir Mudrunka at auctions worldwide.
Go to the complete price list of works
Follow the artist with our email alert
Variants on Artist's name :
Mudruňka Čestmír
Some works of Cestmir Mudrunka
Extracted between 1 works in the catalog of Arcadja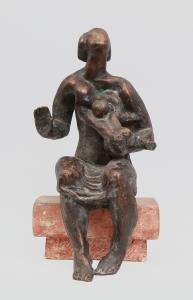 Original
Lot number:
292
Other WORKS AT AUCTION
Description
:
MUDRUŇKA Čestmír (*9. 9. 1935 Uhersko)
Motherhood
Patinated cast bronze, patinated argillite, overall height 33,5 cm, undated, signed MUDRUŇKA.
Czech sculptor and restorer, he studied at the Academy of Arts in Prague under Lauda, Pokorný and Hladík. He is a member of the group Index, he is known for his both small and large-scale figural subjects. There are works in the National Gallery in Prague. See CH 9/115.