Valentine Morse
Tweet
? Century -&nbsp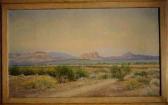 Some works of Valentine Morse
Extracted between 1 works in the catalog of Arcadja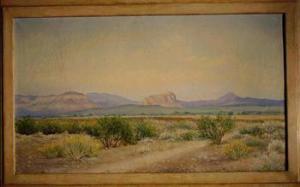 Original 1933
Lot number:
29
Other WORKS AT AUCTION
Description
:
Valentine Morse
American, 20th century
SOUTHWESTERN DESERT LANDSCAPE
Signed and dated
1933
(ll)
Oil on canvas
20 x 34 1/4 inches
Estimate $ 400-600
Craquelure throughout, resulting in a couple of small paintflakes (one in the upper left area of sky, the other in the brushin the lower center). Small area of inpainting to the far right incenter. Stretcher lines visible. Frame rubbing. Slightly dirtyvarnish.