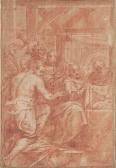 Some works of Giulio Morina
Extracted between 1 works in the catalog of Arcadja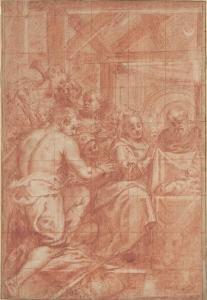 Original
Lot number:
27
Other WORKS AT AUCTION
Description
:
Giulio Morina (Bologna 1555/60-1609 Mirandola)
The Adoration of the Shepherds
red and white chalk, squared in red chalk on blue paper
13¾ x 9½ in. (350 x 240 mm.)
Lot Notes
Giulio Morina studied in Bologna with Lorenzo Sabatini, who diedin 1577, and is first documented in 1587-90 when he worked for theChurch of S. Francesco in Bologna. Morina painted numerousaltarpieces in his native town, for the Churches of S. Maria deiServi, S. Paolo, S. Pietro, and Corpus Domini. Further paintingsare in the Pinacoteca Nazionale in Bologna (D. Ferriani, 'GiulioMorina', Pittura bolognese del '500, Bologna, 1986, pp.791-802).
The figure types and composition are close to others in Morina'soutput of paintings and drawings. The foreground repoussoir figureappears in a number of his pictures, for example the Presentationof the Virgin in S. Maria dei Servi or the Vision of SaintCatherine in the Pinacoteca Nazionale in Bologna.
Drawings by Morina are in Budapest (signed, A. Czére, Disegni diartisti bolognese nel Museo delle belle arti di Budapest, Budapest,1989, no. 3), in Bologna (A. Zacchi, Figure, exhib. cat., Bologna,Pinacoteca Nazionale, 1998, no. 23), exhibited at the CourtauldInstitute (Drawing in Bologna, London, 1992, no. 36) and formerlywith Marcello Aldega and Margot Gordon (Bolognese drawings, XVI-XIXCenturies, New York, 2001, no. 8).
The drawing might be a design for the left side of an organshutter.