Pietro Montana
Tweet
(
1890
- &nbsp
1978
)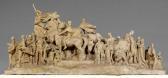 Brunk Auctions
Sep 12, 2009
Some works of Pietro Montana
Extracted between 3 works in the catalog of Arcadja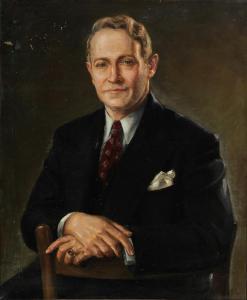 Original 1944
Lot number:
1104
Other WORKS AT AUCTION
Description
:
Pietro Montana
(New York, 1890-1978) Stuart Fox, Actor, signed upper left "P. Montana, 1944", oil on canvas, 30 x 25-1/8 in.; painted wood and composition frame,

flaking, crackle, cupping, retouch

Available for Online Bidding Only

http://www.liveauctioneers.com/auctioneer/33-brunk-auctions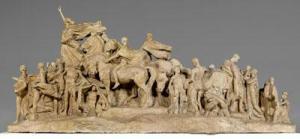 Original 1930
Lot number:
185
Other WORKS AT AUCTION
Description
:
September 12-13, 2009

Lot 0185

Pietro Montana sculpture

(Italian/New York, 1890-1978), "Civilization", a model for a larger
sculpture symbolizing free society with 32 figures, two horses and
two cows, signed at back "Pietro Montana Roma 1930", painted
plaster on painted wood pedestal, 84 x 94-1/8 x 38 in. including
pedestal (sculpture weighs approximately 150 lbs.); copies of
documents and photos relating to the sculpture accompany lot.

Lacking bull's ear, hand of front figure, head of figure holding
sheaf of wheat and baby's arm, some hairline cracks at base,
restoration of hand at right side, flaking, chips.

Property of the Hickory Museum of Art, Hickory, North Carolina
(acquired in 1958).