Andrey Monastyrsky
Tweet
(
1949
)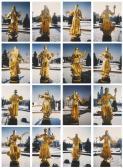 Sotheby's
Nov 25, 2013
Some works of Andrey Monastyrsky
Extracted between 2 works in the catalog of Arcadja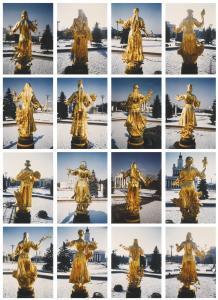 Original 1991
Lot number:
101
Other WORKS AT AUCTION
Description
:
Moscow, VICTORIA- the Art of being Contemporary, Moscow Museum of Modern Art, Andrey Monastyrski, 2010-2011, another version exhibited, ill. cover and in colour pp. 88-89, 92-93.

101

PROPERTY FROM A PRIVATE EUROPEAN COLLECTION

Andrey Monastyrsky

B. 1949

FOUNTAIN (THE FULL SERIES OF 16 PHOTOGRAPHS)

Quantity: 16

each signed, inscribed and dated 91/94 on the reverse

chromogenic prints on Agfa paper

Each print 70 by 49.5 cm; 27 1/2 by 19 1/2 in.

Executed in 1991, printed 1994.

GBP

Print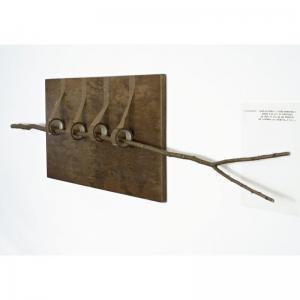 Original 1996
Lot number:
158
Other WORKS AT AUCTION
Description
:
innitialed a m and dated 1996 (under the text, upper right) installation: board, branch, scotch tape, paper
exhibited moscow, xl gallery, the branch, 1996 moscow, national center for contemporary art, reflection, 2005 literature and references national center for contemporary art, reflection,exhibition catalogue, 2005, illustrated stella art gallery, andrey monastyrsky, objects and installations, stella kay, 2005, p. 71, illustrated catalogue note andrei monastyrsky is often referred to as the founding father of russian conceptualism. initiating the collective actions group, he quietly and quickly became known among the russian intelligentsia, whom he incorporated as participants in his collective actions group\\'\\'s projects. since the group\\'\\'s inception in 1976, artists monastryrsky, alekseev, georgii kizeval\\'\\'ter, and nikolai panikov, and later joined by igor makarevichm, elena elagina, and sergei romashko, included aspects of minimalism, zen, existentialism, texts and images, as key characteristics of soviet life. the group noted in 1983, \\"all our activities can be briefly characterized as a kind of \\'trip in the direction of nothingness\\'\\' armed with equipment of an aesthetic/psychological nature. the means for this we receive from the existence of a very closed (but permanent) circle of engaged people.\\" (poezdki i vosproizvedeniia, moscow: self-published, 1980). among collective action\\'\\'s performance based \\'social sculptures,\\'\\' trips to the countryside (poezdki za gorod, 1980), periodically released in volumes, \\"…where the participants were periodically asked to travel by train to the country, then walk up to an enormous empty field to blow up balloons, appear and disappear in a forest, or lie down in a ditch\\" (tupitsyn, margarita, global conceptualism: points of origin, 1950\\'\\'s – 1980\\'\\'s, queens museum of art, new york, 1999). monastyrsky\\'\\'s sculpture branch of 1995, is a more recent example of the principles that were initially established within the group\\'\\'s discourse. similar to the italian radical conceptualist movement arte povera, where natural and common objects are merged in order to subvert the commercialization of art, branch consists of banal source material, i.e. unrolled rolls of packing tape, a common board, and an actual tree branch. monastyrsky\\'\\'s arrangement of these forms is whimsical yet serious, exhibiting pathos and hope.