Amedeo Modigliani
Tweet
Italy
(
Livorno
1884
-&nbsp
Parigi
1920
)&nbsp-&nbsp
Artworks
Wikipedia® - Amedeo Modigliani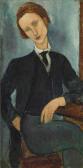 Christie's /
Nov 5, 2013
€18,292,236.77 - €25,609,131.48
Not Sold

Along with Amedeo Modigliani, our clients also searched for the following authors:
Norberto Martini
,
Giovanni Riva
,
Edouard, A. Du Havre Adam
,
Cesarino Monti
,
Alceste Campriani
,
Telemaco Signorini
,
Fausto Zonaro
,
Renzo Vespignani
,
Nino Caffe
,
Emanuele Cappello
,
Augustus Osborne Lamplough
Some works of Amedeo Modigliani
Extracted between 590 works in the catalog of Arcadja
LA BIOGRAFIA DI Amedeo Modigliani
MODIGLIANI Amedeo nato a Livorno nel 1884, morto a Parigi nel 1920.Pittore e scultore italiano.
Iniziò gli studi a Livorno, al fianco di G.
Micheli.
In seguito studiò presso le scuole delle belle arti di Firenze e Venezia.
Si trasferì a Parigi nel 1906, proprio nel momento in cui nasceva il cubismo e emergeva il fenomeno Fauve.
Modigliani fece proprie le istanze di questi movimenti, così come la lezione di Cézanne, reinterpretandole in modo del tutto personale.
Nell'opera Il mendicante di Livorno (1909) avvertiamo già la forte influenza di Cézanne nella definizione delle figure per mezzo di ampie masse cromatiche.
Non meno importante risulta poi la sua formazione letteraria, legata al tardo romanticismo.
Nel 1909 si stabilì in modo definitivo a Montparnasse, stringendo una forte amicizia con Brancusi.
Insieme all'amico, si dedica alla scoperta della scultura africana.
Decide di abbandonare momentaneamente la pittura per dedicarsi alla scultura ed al disegno.
Questa esperienza sarà determinante nel momento in cui nel 1914 torna alla pittura.
La parte più nota della sua opera risale al periodo 1915-1920, anni durante i quali M.
si dedicò soprattutto ai ritratti.
La sua importanza nell'arte moderna venne definitivamente riconosciuta dopo la sua morte, in particolare con l'organizzazione di una grande mostra a lui dedicata in occasione della Biennale di Venezia del 1930.