Peter Minygululu
Tweet
(
1942
)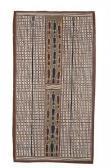 Cornette de Saint Cyr
May 9, 2011
Some works of Peter Minygululu
Extracted between 2 works in the catalog of Arcadja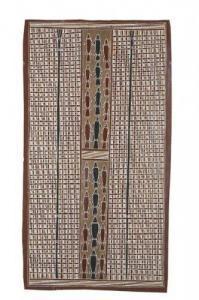 Original 2006
Lot number:
58
Other WORKS AT AUCTION
Description
:
Peter Minygululu (1942)
Histoire du piège à poisson / Fishtrap Story, 2006
Ocres naturelles sur écorce / Natural ochres on bark
125 x 69. 5 cm (Cat. N°PEM 06 001)

Provenance :
Centre artistique / Art centre Bula'bula Arts Aboriginal Corporation, Ramingining, Central Arnhem Land (Cat. N°BP3799)

Un certificat d'authenticité du centre artistique accompagne l'oeuvre
This painting is sold with an accompanying certificate of authenticity.

Description :
Dans cette peinture sur écorce, Peter Minygululu parle de l'histoire d'un piège à poisson.
Fabriqués en fibres végétales nouées, de tels pièges servent à capturer le poisson aussi bien dans les billabongs, les criques qu'aux embouchures de rivières où l'eau douce se mêle à l'eau salée.

In this painting, the artist has depicted the fish trap story.
The fishtrap is used to catch many types of fish, both in freshwater billabongs and creeks, and where freshwater meets seawater at the outflow of creeks.
Bula' bula Arts certificate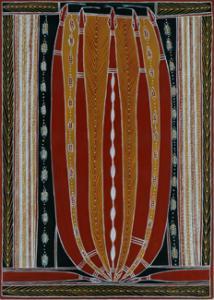 Original
Lot number:
207
Other WORKS AT AUCTION
Description
:
PETER MINYGULULU (1942 - )

Untitledochre on paper,

105 x 75. Provenance: Purchased fromBulabula Arts Aboriginal Co-operative from Ramingining,
Central Arnhem Land,

through an exhibition at AnimaGallery,

Adelaide,

July 1996. Privatecollection,

Melbourne.