Edwin Minot Dawes
Tweet
(
California
1872
- &nbsp
Nevada
1945
)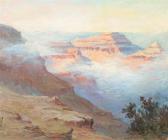 Some works of Edwin Minot Dawes
Extracted between 1 works in the catalog of Arcadja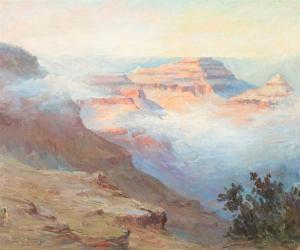 Original
Lot number:
1262
Other WORKS AT AUCTION
Description
:
Sale 75 Lot 1262

EDWIN MINOT DAWES (California/Nevada, 1872-1945).

IMPRESSIONIST VISTA OF GRAND CANYON IN PASTEL COLORS,
signed lower left. Oil on canvas

Click here to view supplemental information for this lot.
- Framed, 20 in. x 24 in.

Lined; minor surface dirt and deberis.

UV:
A few scattered spots of inpainting along top edge of painting in sky as well as a approximately 1 in. x 2 in. area of inpainting upper left in sky.