Johannes D J Meyer
Tweet
(
1655
- &nbsp
1712
)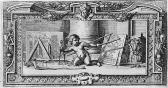 Galerie Bassenge
Nov 24, 2016
Some works of Johannes D J Meyer
Extracted between 3 works in the catalog of Arcadja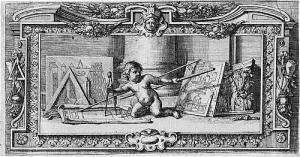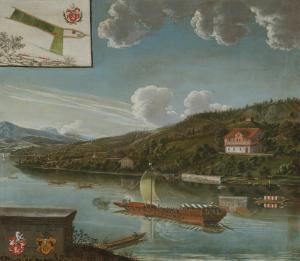 Original 1703
Lot number:
3
Other WORKS AT AUCTION
Description
:
Johannes Meyer II

1655 - 1712

KRIEGSGALEERE AUF DEM ZÜRICHSEE, 1703

Unten links signiert und datiert

Öl auf Leinwand

76 x 87.5 cm

Read Condition Report Read Condition Report

Register or Log-in to view condition report

Saleroom Notice

Dargestellt ist vermutlich das Zürcher Kriegsschiff Neptun vor dem Landgut der Familie Spöndli/Orelli bei Zürich Enge. Unten links befinden sich die Wappen der Familien Grebel und Müller.
Not relined. Faint traces of a former frame, most notable to the upper right. Minuscule accretion in the green near the small rowing boat. Mild surface cleaning recommended. Under uv-light circular retouching visible to the centre of the work in the hill to the left of the house. scattered retouchings all over, most notable in the sky and to the left. Good condition. "In response to your inquiry, we are pleased to provide you with a general report of the condition of the property described above. Since we are not professional conservators or restorers, we urge you to consult with a restorer or conservator of your choice who will be better able to provide a detailed, professional report. Prospective buyers should inspect each lot to satisfy themselves as to condition and must understand that any statement made by Sotheby's is merely a subjective, qualified opinion. Prospective buyers should also refer to any Important Notices regarding this sale, which are printed in the Sale Catalogue. NOTWITHSTANDING THIS REPORT OR ANY DISCUSSIONS CONCERNING A LOT, ALL LOTS ARE OFFERED AND SOLD AS IS" IN ACCORDANCE WITH THE CONDITIONS OF BUSINESS PRINTED IN THE SALE CATALOGUE."