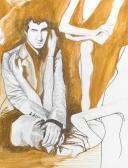 Some works of Rachel Meuler
Extracted between 1 works in the catalog of Arcadja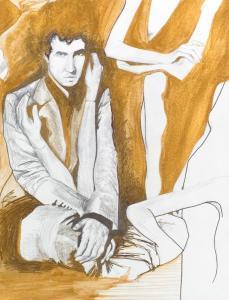 Original 2006
Lot number:
1566379
Other WORKS AT AUCTION
Description
:
Item No. 1566379 : Rachel Meuler, Untitled Drawing, 2006
D4WD
Description

Gouache and ink on paper, singed on the reverse.
Provenance

Directly from the artist.
Measurements

12 x 15"
Condition

Artwork is in excellent condition.

A relationship is like a vi rus, a microscopic fragment that
reproduces inside the cell s of l iving hosts. When infected by a
virus, a cell is forced to make thousands of identical vi ruses.
This rapid reproduction is ent irely dependent on the virus\'\'s
presence wi thin a host cell. When found out side of a host, vi
ruses are metabolically inert particles waiting to insert their
genet ic material and take over the host\'\'s funct ions.

We, as individuals and groups, play the parts of vi rus and host .
The resulting infection creates a cycle of posturing, mirroring,
projecting, and cannibalizing of traits of the people and cultures
we come in contact with. Our family and friends, our lovers,
heroes, and villains all become hosts to our viruses, and infect
ions to our host, in an ongoing process of appropriat ion between
our selves and others.

Thi s process is growth. It can also be crisi s. Vi ral infections
often cause disease in the host, though they are usually completely
eliminated by the immune system, resulting in l ifetime immunity to
that virus. I explore thi s play for dominance using beauty and the
grotesque to create portraits and narratives of hybrid creatures
that are the sum of thei r parts.

These images exist on two levels. They are both highly personal,
novelistic port rayals of people and events that have significantly
impacted my life, and equally specimens of a futuristic natural
order. They question who or what will be left standing.

Rachel Meuler, born in Loui sville, KY in 1977, is a mul
tidisciplinary art ist working with drawing and painting, sculpture
and installation, and costume-oriented performance art . She
received her BFA in Sculpture from the Kansas City Art Institute in
1999, her MFA in Sculpture from SUNY Purchase in 2001, and has been
living and working in New York City since.

Meuler has been an artist in residence at the Mil lay Colony for
the Arts, Skidmore College, and the Abrons Art Center of the Henry
Street Settlement. Her work is included in several slide
registries, including the Drawing Center's Viewing Program, and has
been featured in various online and print publications.

Her work is informed by the fears and fantasies of contemporary
culture. The specimen-like port raits and narratives of hybrid
creatures speak to individual struggle and natural order.