Joseph Melling
Tweet
(
1724
- &nbsp
1796
)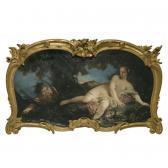 Sotheby's
Apr 26, 2007
Find artworks, auction results, sale prices and pictures of Joseph Melling at auctions worldwide.
Go to the complete price list of works
Follow the artist with our email alert
Variants on Artist's name :
Melling Josef
Along with Joseph Melling, our clients also searched for the following authors:
Adolf Friedrich Harper
,
Friedrich Wilhelm Hirt
,
Franz Schutz
,
Jakob Von Manskirsch
,
Christian Georg I Schuz
,
Johann Heinrich I Tischbein
,
Ferdinand Kobell
,
Frans Anton Maulbertsch
,
Theobald Michau
,
Joseph Claude Vernet
,
Jean-Baptiste Pillement
Some works of Joseph Melling
Extracted between 13 works in the catalog of Arcadja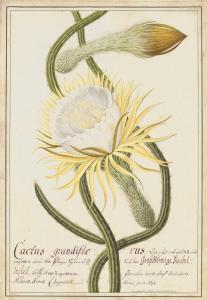 Original 1784
Lot number:
351
Other WORKS AT AUCTION
Description
:
Josef Melling (Saint-Avold 1724-Strasbourg 1796)
Cactus grandiflorus (Selenicereus grandiflorus)
signed and inscribed 'Peint par Joseph Melling. Maitres de Deseindes Ecolle[s] Normale[s]' (the 's' added in another ink) andfurther inscribed 'Cactus grandiflorus. Lin: Sÿst: nat:ed:
n
XIII. vind: pag: 338. ii. Sp: pl: 668. FlorigemSistem 3
2
ZH[?] Unitn[?] 630. Grossblümige SackelSistel. Volk: Hesp: I. pag: 133. t: 134. Floruit in hortoAug
a
e
Archiducis Mariae Annae ClagenfurteMense Junio 1784'
black chalk, watercolour, bodycolour, heightened with touches ofgold, black ink framing lines
20½ x 14 in. (52 x 35.5 cm.)
First described by Linnaeus in his Species plantarum (1753) asCactus grandiflorus, this variety is now known as Selenicereusgrandiflorus. The inscription at the foot of the drawing providesreferences to the cactus in the botanical literature of the time,including Linnaeus's System naturae, 13th ed. (1780) and to JohannChristoph Volkamer's Nürnbergische Hesperides, Oder GründlicheBeschreibung Der Edlen Citronat- Citronen- und Pomerantzen-Früchte(1708). The inscription also refers to the garden of Archduchess Maria Annaof Austria (1738-1789), daughter of Queen Maria Theresa and EmperorFrancis I and sister of Queen Marie-Antoinette. An intelligent andenquiring woman, she was made an abbess first of a convent inPrague and then of one in Klagenfurt, where she was at the centreof an intellectual circle which devoted itself to the study ofsciences such as botany, numismatics and mineralogy. We are grateful to Roy Mottram and Dr. Colin Walker for theirassistance in preparing this catalogue note.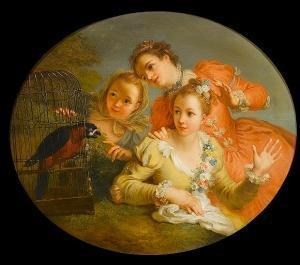 Original
Lot number:
6
Other WORKS AT AUCTION
Description
:
Joseph Melling (Saint Avold 1724-1796 Strasburg)
Three young girls with a blue parrot in a cage
oil on canvas, oval
82 x 97 cm. (32¼ x 38¼ in.)
Additional Notes:
PROVENANCE:
Sale, Christie's, London, 14 October, 1983, lot 137

Joseph Melling was a pupil of Carl van Loo and François Boucher in Paris. He later founded a school of painting in Strasburg and worked as the court painter in Karlsruhe. The present painting can be compared to the signed Kitchen interior offered at the Dorotheum, Vienna, 21 March 2002.