John Mcquarrie
Tweet
XX Century -&nbsp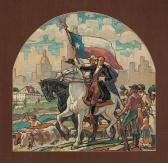 Heritage
May 11, 2013
Some works of John Mcquarrie
Extracted between 2 works in the catalog of Arcadja

Original 1918
Lot number:
97
Other WORKS AT AUCTION
Description
:
John MacQuarrie (American, 1871-1944)

Mural studies depicting the construction of the transcontinental railroad (a pair)

each signed 'J. Mac Quarrie' (lower right)

each oil on board

each 18 x 58in

each overall: 22 x 63in

Footnotes

John MacQuarrie painted murals in train stations between 1909 and 1941. His murals were installed in Salt Lake City, Sacramento, San Jose, Palo Alto, Salinas, Houston and Mesa, Arizona. The first panel depicts the crowd at the celebration of Jan. 8, 1863 when California Governor Leland Stanford turned a ceremonial shovelful of earth to mark the starting point for the Central Pacific Railroad. The full scale mural is in the Sacramento Depot.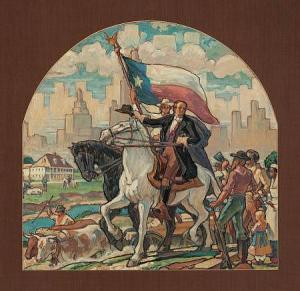 Original
Lot number:
76020
Other WORKS AT AUCTION
Description
:
Description:

JOHN MCQUARRIE (American, 20th Century) Mural study of Sam Houston Oil on board 28 x 29-1/2 inches (71.1 x 74.9 cm) (image) San Francisco sculptor and muralist John A. McQuarrie painted murals in Union Pacific, Central Pacific, and Southern Pacific railroad depots. In 1934, the Southern Pacific commissioned him to paint a 17 x 16 foot mural for Houston's new Grand Central Depot, which was demolished in the 1960s. Sketches of John McQuarrie's 1934 Grand Central Station mural of Sam Houston entering the city of Houston are all that survive of the original, which can now only be seen in photographs. Although McQuarrie may not be well known by some Texas art and Texana collectors, there is no denying that this piece is a special opportunity to own an important piece of Texas art and history, as well as a great symbol of the growth and dynamism, which has characterized the city of Houston from its founding to the present day. Although McQuarrie had been painting murals since at least 1909, he clearly adapted his style to remain current. Although his Sam Houston mural was a private commission, it is consistent in style with those being painted under the fairly rigid dictates of the Federally-funded New Deal art programs. This is especially evident in the heavy outlines of the figures, so as to make them easier to "read" from distance, and the strong colors in the palette.