Keith Mcdaniel
Tweet
Follow the artist with our email alert
(
1948
-&nbsp
1986
)&nbsp-&nbsp
Artworks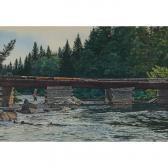 Treadway-Toomey Gallery /
Dec 2, 2007
€1,354.92 - €2,709.84
€2,032.38
Some works of Keith Mcdaniel
Extracted between 3 works in the catalog of Arcadja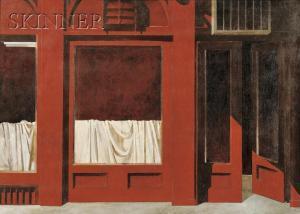 Original
Lot number:
433
Other WORKS AT AUCTION
Description
:
Lot 433 Keith McDaniel (American, 1948-1986) Philadelphia, City Center Unsigned, titled and inscribed on the stretcher, identified on apartial label from The Main Street Gallery, Nantucket, Massachusetts, affixed to thebacking corner and on a partial hanging tag. Acrylic on canvas, 30 x 42 in. (76.2 x 106.5 cm), framed. Condition: Mild canvas deformation and stretcher bar marks. Estimate $2,000-3,000 Inscribed on the stretcher "Keith McDaniel/ Philadelphia,Center City /October 1973-Boston/March 1974 - Plainfield,N.J."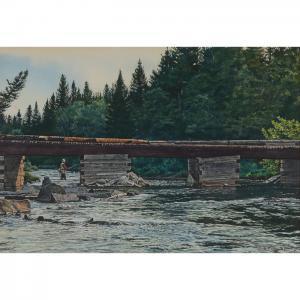 Original
Lot number:
789
Other WORKS AT AUCTION
Description
:
, signed and dated lower right, framed Estimated Value: $2,000 - $4,000 Condition Report: not examined out of frame; appears to be in very good condition Artist Bio: Henry McDaniel - In 1925, McDaniel moved to Boston and enrolled in basic art classes at Vesper George School of Art. Here he studied with William Hazelton, Prescott Jones, and Frank Waldo Murray. An accomplished angler as well as an avid outdoors-man, he was drawn to painting the landscape, namely the streams and rivers in which he fished. His expert ability to capture the dazzling effects of light on water is rivaled only by the bravura of his brushwork. His preferred medium is watercolor, which he taught himself sometime in the 1930s. His work has been exhibited at the New England Watercolor Society, The American Watercolor Society, the National Academy of Design, The Anglers Club, Crossroads of Sports Gallery, and a host of smaller venues. His paintings can be found in the permanent collections of Miramichi Salmon Museum, the American Museum of Fly Fishing, and the Holyoke Museum.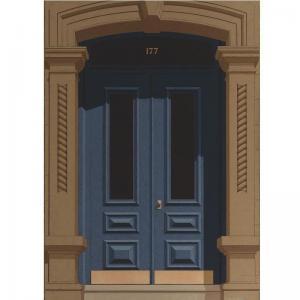 Original 1982
Lot number:
255
Other WORKS AT AUCTION
Description
:
condition note: in generally good condition.