Dindga Mccannon
Tweet
(
1947
)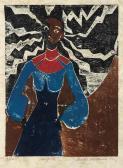 Some works of Dindga Mccannon
Extracted between 1 works in the catalog of Arcadja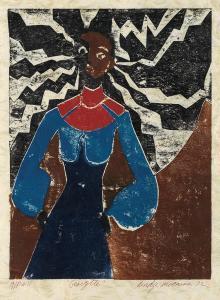 Original 1972
Lot number:
83
Other WORKS AT AUCTION
Description
:
DINDGA MCCANNON (1947 - )
Georgette.
Color linoleum cut on japon nacré, 1972. 343x308 mm; 13 1/2x12 1/8 inches, full margins. Artist's proof, aside from an edition of unknown size. Signed, titled, dated and inscribed "A/P #11" in red ink, lower margin.
Born and raised in Harlem, Dindga McCannon is a truly versatile artist. She is a painter, printmaker, fashion and jewelry designer, quilter/textile artist, author and illustrator. McCannon knew she wanted to be an artist from an early age, learning to sew from her mother and grandmother as a child. McCannon chose not to attend traditional 4 year college for art but studied printmaking atBob Blackburn's Printmaking Workshop, a discipline she would later go on to teach to others, and engaged in private study with artists including Richard Mayhew, Al Holligsworth and Charles Alston. Dindga later became a member of the Weusi Artist Collective and in 1971 became a founding member of Where We At, Black Women Artists, Inc., which provided a showcase for black women artists. Other members of the collective included Faith Ringgold and Vivian Browne among others. Also during her career, McCannon illustrated three books by Edgar White, and wrote and illustrated two books of her own, Peaches and Wilhemina Jones, Future Star. This vibrant print is one of the first works by McCannon to come to auction. King-Hammond 157.