Clifford Mcbride
Tweet
United States
(
1901
- &nbsp
1951
)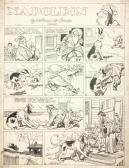 Urania Casa d'Aste
Jun 6, 2015
Find artworks, auction results, sale prices and pictures of Clifford Mcbride at auctions worldwide.
Go to the complete price list of works
Follow the artist with our email alert
Variants on Artist's name :
Mac Bride Clifford
Some works of Clifford Mcbride
Extracted between 3 works in the catalog of Arcadja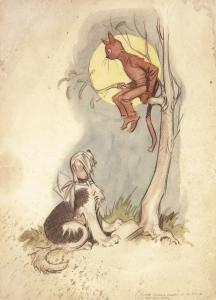 Original
Lot number:
28
Other WORKS AT AUCTION
Description
:
Descrizione prodotto McBride Clifford - "Halloween party", anni '30 ITA matite colorate e acquerello su cartoncino, 36 x 50,5 cm Illustrazione originale realizzata da McBride e titolata "Violette causes a neighbor to be late at a halloween party", raffigurante la cagnolina Violette (eterno amore del protagonista della celebre strip Napoleon) mentre blocca sul ramo di una pianta un indifeso passante mascherato da gatto durante la notte di Halloween. Lievi strappi ai margini e pieghe ENG Coloured pencils and watercolour on thin cardboard. Original illustration drawn by McBride and entitled "Violette causes a neighbor to be late at a halloween party", which depicts the little dog Violette (the great love of Napoleon, the main character of the strip) in the act of blocking a defenseless passer-by dressed up as cat on branch, on Halloween night. Slight tears and creases along the margins.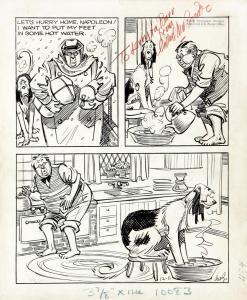 Original
Lot number:
61
Other WORKS AT AUCTION
Description
:
Mc Bride Clifford - "Napoleon", anni '50 ITA matita e china su cartoncino, 24 x 29 cm Tavola giornaliera dei primi anni '50 per "Napoleon". Firmata e dedicata. ENG Pencil and ink on thin cardboard. Daily page from the beginning of the 50''''''''s for "Napoleon". Signed and dated