Giorgios Mavroidis
Tweet
Greece
(
1913
- &nbsp
2003
)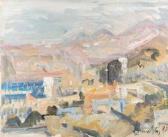 Rossini
Feb 6, 2019
Some works of Giorgios Mavroidis
Extracted between 32 works in the catalog of Arcadja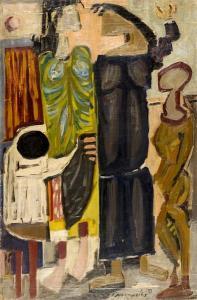 Original 1955
Lot number:
35
Other WORKS AT AUCTION
Description
:
Georgios Mavroidis (Greek, 1912-2003)
Figures

signed in Greek and dated '55' (lower right)

oil on canvas

137 x 90 cm.
Footnote: Exhibited: New York, Iolas Gallery, May
1956. Literature: George Mavroidis, A Process
of Thunderstruck Affirmation , Adam Editions - Pergamos,
Benaki Museum, p. 82 (illustrated in a black and white
photograph). An important auction discovery,

Figures , exhibited in New York in 1956 and known until now
only through a black and white photograph published in the artist's
monograph, hadn't been seen in public for over half a century.
Showcasing the artist's mature style - shallow space, flat surfaces
of bright colour, intense brushwork and pronounced distortion, this
powerful work combines abstractive language and expressionistic
temperament with figural elements taken from ancient Greek vase
painting, Byzantine art and 20th century avant-garde
manifestations, including Picasso's anti-war paintings from the
early 1950s. Reviewing the 1956 New York show at the Iolas Gallery,
the New York Times noted that Mavroidi's pictures "recall, in a
vague way some of the hard-headed innovations of Matisse and
Picasso. They are most authentically Greek in the bareness of color
and in their refusal to romanticize a classical landscape with
figures." 1 An acclaimed and influential painter who
represented his country in the 1956 Venice Biennale, Mavroidis left
an important legacy, contributing to the spread of expressionism in
Greece. 1. The New York Times, 12.5.1956.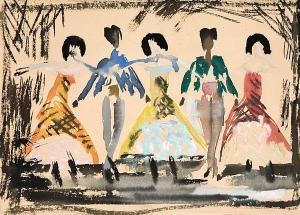 Original
Lot number:
117
Other WORKS AT AUCTION
Description
:
George Mavroidis (Greek, 1912-2003)
Three maquets for the ?Gipsy? staged by the Greek Chorodrama in 1959
watercolour and ink on paper
21 x 29 cm., 19 x 23 cm., 25 x 13 cm.
(3)
Additional Notes:
Painted in 1959.

Exhibited:
Athens, National Gallery Alexander Soutzos Museum
Images of Dance from the Greek Chorodrama, 1951-1980, 1981.

Literature:
George Mavroidis
A Process of Thunderstruck Affirmation, Benaki Museum, Adam editions-Pergamos, Athens 2003, p. 100, no. 116 (illustrated)