Pietro Mauro
Tweet
(
1600
- &nbsp
1600
)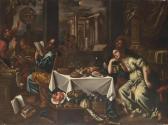 Some works of Pietro Mauro
Extracted between 1 works in the catalog of Arcadja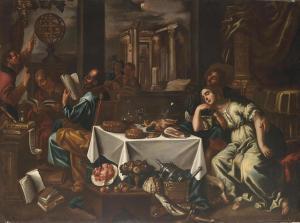 Original
Lot number:
136
Other WORKS AT AUCTION
Description
:
Pietro Mauro
(active in Venice in the 2nd half of the 17th century), Allegory of the Virtues and Vices, oil on canvas, 153 x 203 cm, framed

Inscribed and signed in the cartouche at lower left: 'Crapula ingenium offuscat/ Pet. us Mauro P.' As is indicated by the inscription, the present painting depicts the emblem 'Crapula ingenium offuscat' from the compilation of emblems by Otto Van Veen, Q. Horatii Flacci Emblemata (1612). The emblem\'\'\'\'s meaning refers to extravagant culinary delights clouding the mind and can be understood as a call for moderation.