Yury Vladimirovich Matushevsky
Tweet
? Century -&nbsp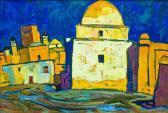 Sovcom
May 22, 2018
Some works of Yury Vladimirovich Matushevsky
Extracted between 3 works in the catalog of Arcadja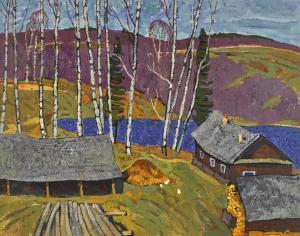 Original
Lot number:
139
Other WORKS AT AUCTION
Description
:
Yuri Vladimirovich Matushevsky BY THE LAKE 1930-1999 signed in Cyrillic and dated 69 l.l. oil on card 78.5 by 100cm, 31 by 39 1/2 in. Catalogue Note A leading exponent of the Vladimir School, Yuri Matushevski\\\'s work was exhibited not only throughout the Soviet Union but also abroad. The present landscape reveals the artist\\\'s preference for intense, contrasting colours and for thick expressionist brushwork which was characteristic for the Vladimir School and contrasting the strict academic standards dictated by the Union of Artists of the USSR.
Original 1964
Lot number:
96
Other WORKS AT AUCTION
Description
:
Samarkand. Author: Matushevsky Yury Vladimirovich Year: 1964. Size: 42х62. Technique: Oil on cardboard.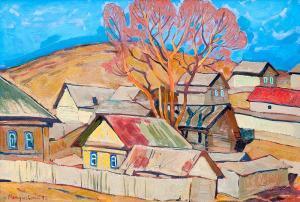 Original 1973
Lot number:
94
Other WORKS AT AUCTION
Description
:
Golden autumn. Lot: № 94 Author: Matushevsky Yury Vladimirovich Year: 1973. Size: 44х64. Technique: Oil on cardboard. Description: Signed and dated lower left