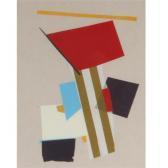 Ripley Auctions
Aug 25, 2018
Some works of David Mattingly
Extracted between 2 works in the catalog of Arcadja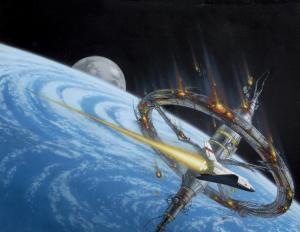 Original 1985
Lot number:
89071
Other WORKS AT AUCTION
Description
:
DAVID MATTINGLY
(American 20th Century)

Killer Station

, 1985

Acrylic on board

21 x 28 in.

Signed lower right

This piece was used for the cover for Martin Caidin's novel, Killer Station, Baen Books, 1985.

"A giant space station could prove to be a scientific boon -- or a Sword of Damocles hanging high over all our heads. In one brief moment of sabotage Station Pleidades changes from one to the other -- and then it begins its relentless deorbit -- point of impact, America's greatest city, where it will strike with the force of the Hiroshima bomb. Killer Station is a barely fictional novel of the near future brought with gut wrenching impact to now."

From the Frank Collection.
View Entire Collection.
.

Condition Report*:
This piece has been matted and framed to an overall size of 26 x 33 in., and the art is in Excellent condition.

*Heritage Auction Galleries strongly encourages in-person inspection of items by the bidder. Statements by Heritage regarding the condition of objects are for guidance only and should not be relied upon as statements of fact, and do not constitute a representation, warranty, or assumption of liability by Heritage. All lots offered are sold "AS IS".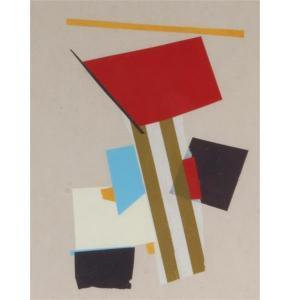 Original
Lot number:
67
Other WORKS AT AUCTION
Description
:
David Mattingly (American / Indiana, 20th Century) abstract 2002 collage unsigned. 11 " H x 8 /2 " W (sight), 21 1/4 " H x 17 1/4 " W (frame)