William Thomas Matthews
Tweet
(
1821
- &nbsp
1905
)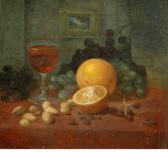 William Doyle
Apr 3, 2012
Some works of William Thomas Matthews
Extracted between 3 works in the catalog of Arcadja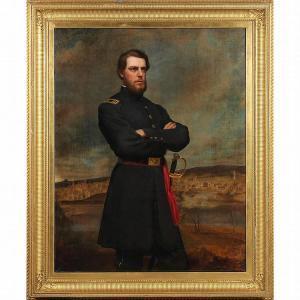 Original
Lot number:
771
Other WORKS AT AUCTION
Description
:
Lot 771: William T. Matthews (D.C./NY, 1821-1905), Likely Early Portrait of a Future Union Brigadier
William Thomas Mathews (1821-1905)
Description:

vas, signed "Wm. Matthews / New York 186(?)," the verso stamped "Williams Stevens Williams / Looking Glass Ware Rooms / & Art Repository / (obscured) Art Materials / (obscured) Broadway New York," presented in the likely original gilt composition frame. The subject, said to be J. Howard Kitching, stands above the Rappahannock River opposite Confederate-held Fredericksburg, Virginia. He wears a dark blue frock coat fitted with a Union captain's shoulder straps and the red sash of an artillery officer. In the distance, to his right, federal engineers build a pontoon bridge while enduring heavy fire from the city's defenders. In the river, to the captain's left, is a row of masonry pylons-- the only remains of the destroyed Richmond, Fredericksburg and Potomac Railroad bridge. A period calling card imprinted "Maj. Doull / 2nd N.Y.L. Artillery" came with the painting and is included here. Residual tape over the name suggests the card was pasted down face-first; the back of the card is neatly inscribed "J. Howard Kitching / Capt. 2d N.Y. Light /Artillery" over a rather accomplished color drawing of a scrolled American flag. Family tradition has it that the subject of the painting is, in fact, John Howard Kitching since the card was affixed to the back of the frame when the painting was purchased. An excerpt from an unknown wartime account claims that J. Howard Kitching enlisted as a private in the "Lincoln Cavalry" when the Civil War began. In August 1861 he transferred to the 2nd New York Heavy Artillery as a commissioned captain. The following summer Kitching helped organize the 6th New York Heavy Artillery and became that organization's first lieutenant colonel. By April 1863 he was the regiment's colonel and actively commanding a brigade of artillerists-turned-infantry. After serving at Cold Harbor and Petersburg, Kitching was transferred to the Army of the Shenandoah. The move proved fatal. On October 19, 1864 Kitching was wounded in the foot at Cedar Creek, some miles below Winchester, Virginia. He left the Army to recover, however the injury became increasingly problematic. The youthful colonel lingered at his home in Dobbs Ferry, New York, expiring on January 10, 1865. For exemplary service, he was posthumously made a brevet brigadier general retroactive to August 1, 1864. SS 55.5 x 43.5 in.; DOA 69.5 x 55.5 in. English-born William T. Matthews (1821-1905) emigrated with his parents to the United States in 1833. As a young man he apprenticed with Charles Soule in Cincinnati before moving to New York in 1848. Matthews, often referred to as the "Painter of Presidents," was indeed fortunate enough to secure commissions for portraits of Abraham Lincoln, Rutherford B. Hayes, James Garfield and William McKinley. He also painted prominent Americans who did not happen to live in the White House and was, by any standard, an accomplished landscape artist as well.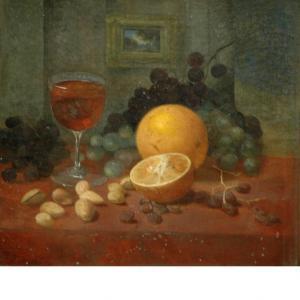 Original 1850
Lot number:
27
Other WORKS AT AUCTION
Description
:
Lot 27

William Thomas Matthews

American, 1821-1905

Still Life with Wine, Fruit and Nuts on a Tabletop

, 1850

Signed

W. T. Matthews

and dated

1850

(ll)

Oil on canvas

14 1/4 x 15 3/8 inches

C

Estimate $600-800

Wax relined. Surface grime. Scattered tiny flecks across surface of substance that may be varnish. Heavy craquelure throughout. Inpaint in the glass of wine, the painting in the background, in the red table cloth at the base of the stem glass, in the contours and shadows of the fruit and the stem of the grapes. There is also inpaint in the lower right edge. No other visible restoration is detected under UV light. Stretcher has been replaced.

Any condition statement is given as a courtesy to a client, is only an opinion and should not be treated as a statement of fact. Doyle New York shall have no responsibility for any error or omission. The absence of a condition statement does not imply that the lot is in perfect condition or completely free from wear and tear, imperfections or the effects of aging.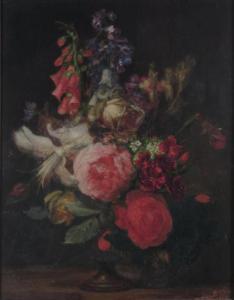 Original
Lot number:
60
Other WORKS AT AUCTION
Description
:
Description: William Thomas Matthews American, 1821-1905 Vase of Flowers Signed W. T. Matthews and dated 1870 (lr) Oil on canvas 18 x 12 3/8 inches C Property of a Manhattan Lady