Jun Matsuyama
Tweet
(
1974
)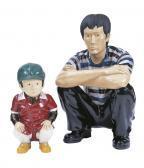 Christie's
May 25, 2008
Some works of Jun Matsuyama
Extracted between 2 works in the catalog of Arcadja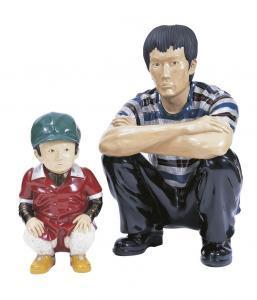 Original 2002
Lot number:
683
Other WORKS AT AUCTION
Description
:
JUN MATSUYAMA
(BORN IN 1974)
SELF PORTRAIT
TWO LACQUER, COTTON, PAINT, INLAY, EGG SHELL, SCULPTURES
95 CM (37 1/2 IN.) & 58 CM (22 7/8 IN.).
EXECUTED IN 2002 (2)
Literature
TOKYO FM FREE PAPER, RT ISSUE (NO. 030), TOKYO, JAPAN, OCTOBER 2002, P. 5. (ILLUSTRATED)
Exhibited
TOKYO, JAPAN, OKYO BIG SITE, GEISAI-2, 31 AUGUST - 1 SEPTEMBER, 2002.
Lot Notes
MATSUYAMA HAS LABORIOUSLY CONSTRUCTED TWO LACQUER MODELS IN SELF-PORTRAIT (LOT 683). TOYING WITH PRECONCEIVED NOTIONS OF TWO-DIMENSIONAL AND THREE-DIMENSIONAL IMAGES OF COMMON IDOLATRY (GRAVURE-IDOLS, FASHION-MODELS AND BUDDHIST SCULPTURES), THIS WORK IS THE MANIFESTATION OF WHAT THE ARTIST HIMSELF ENVISIONS WHAT HIS IDOL OF VENERATION WOULD RESEMBLE. THESE TWO EYE-TO-EYE FACING FIGURES NOT ONLY CORRESPOND TO AN OBSESSION WITH IDOL-WORSHIPPING IN TODAY'S SOCIETY BUT ALSO REMARKS ON THE LOST APPRECIATION OF AN ANCIENT CRAFT-LACQUER.
FROM THE WOODEN CORE NEEDED TO CREATE THESE HOLLOW STATUES TO ITS SECTIONAL MOTHER-OF-PEARL INLAY, MATSUYAMA PAYS TRIBUTE TO TRADITIONAL LACQUER MAKING BY FOLLOWING THE EXACT STRUCTURAL FORMULA AS HIS PREDECESSORS. FROM THE GRASS TO TAKING SOIL FOR A SPECIFIC DEPTH UNDERGROUND, MATSUYAMA DOES NOT WAVER FROM THE ANCIENT PRACTICE. HOWEVER, THE PURPOSE OF THIS IS NOT CLOUDED BY HIS NEED TO PRODUCE EXPENSIVE LACQUER BUT TO SHOW THE TRUE REDEEMING QUALITIES OF LACQUER AS A MEDIUM. THE BEAUTY OF LACQUER LIES IN ITS PURE AND BRILLIANT SHINE SO CAVERNOUS THAT IT REFLECTS THE LONG HISTORY OF CULTIVATION, YET MANY SPECTATORS ARE MORE CAPTIVATED BY THE OVER EMBELLISHED LACQUERS THAN THE SIMPLISTIC BEAUTY THE MATERIAL ITSELF BEHOLDS. IN THE CRAFTING OF SELF-PORTRAIT (ADULT), MATSUYAMA EXPRESSES THE TASTELESSNESS OF OVERLY ORNATE LACQUERS BY PAINSTAKINGLY INLAYING LUMINESCENT PEARL PANELS INTO THE 'SHIRT' THUS DISTRACTING THE VIEWER'S ATTENTION FROM THE MULTILAYERED, TRANSLUCENT BLACK LACQUER.
THE LOVE OF THIS ANCIENT CRAFT BY PREVIOUS GENERATIONS IS EXPRESSED AND COUNTER-BALANCED IN THE FIGURE OF SELF-PORTRAIT (CHILD) WHO, REPRESENTS YEARS LONG GONE. IN CREATING THESE TWO FIGURES, MATSUYAMA COMMENTS ON HOW COMMON PERCEPTION OF THE FINE ARTS TODAY IS NOT ALWAYS ACCURATE. HE PERSISTS ON CREATING PURE, AUTHENTIC LACQUER WORKS TO SHOW THAT THE CHILD, NAIVE AND SIMPLISTIC IN AGE, SIZE AND COMPOSITION CAN MATCH AND EVEN EXCEED THE DECORATIVE AND OVERBEARING ADULT IN BEAUTY AND UNDERSTANDING OF THE VALUE OF LACQUER WORKS.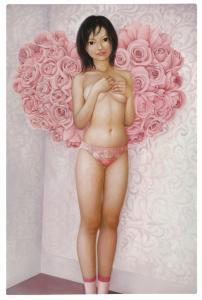 Original 2005
Lot number:
76
Other WORKS AT AUCTION
Description
:
Oil on canvas
signed and dated on the reverse, signed and datedupperside
80.3×53.3cm
2005