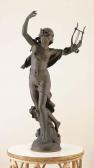 Some works of Mathieu Matherin
Extracted between 1 works in the catalog of Arcadja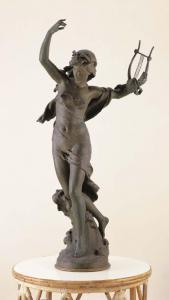 Original
Lot number:
913
Other WORKS AT AUCTION
Description
:
Lot Description

A WHITE METAL DANCING FEMALE FIGURE HOLDING A LYRE
CAST FROM A MODEL BY MATHIEU MATHERIN, FRENCH, LATE 19TH CENTURY
Inscribed MATH. MOREAU/HORS.CONCOURD and impressed with a metal foundry mark Médaille d'honneur
41½ in. (105 cm.) high

Special Notice

Christie's is selling all lots in this sale as agent for an organization which holds a State of New York Exempt Organization certificate. Seller explicitly reserves all trademark and trade name rights and rights of privacy and publicity in the name and image of Doris Duke. No buyer of any property in this sale will acquire any right to use the Doris Duke name or image. Seller further explicitly reserves all copyright rights in designs or other copyrightable works included in the property offered for sale. No buyer of any property in the sale will acquire the rights to reproduce, distribute copies of, or prepare derivative works of such designs or copyrightable works.