Louis Mathe
Tweet
1900 Century -&nbsp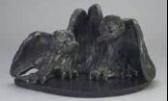 Waddington's
Mar 28, 2006
Some works of Louis Mathe
Extracted between 2 works in the catalog of Arcadja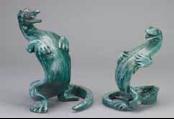 Original 1979
Lot number:
580
Other WORKS AT AUCTION
Description
:
A PAIR OF DRAGONS
each signed and dated 79
Literature:
The artist is depicted in a photograph mod-
elling one of the dragons in Madge
Crichton's article: Louis Mathe: A Meticulous
Molder of Art, which appeared in
Hydroscope, February 29, 1980, pgs. 4-5.
Note:
Born in Hungary, Mathe began his commer-
cial artistic career as a ceramic designer,
decorator and sculptor in Denmark, then
Norway prior to his emigration to Canada in
1951.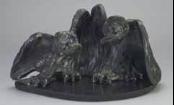 Original 1969
Lot number:
581
Other WORKS AT AUCTION
Description
:
signed, dated 1969 and inscribed: var.\\'2
10\\" x 18\\" — 25.4 x 45.7 cm.
ceramic sculpture;
group of vultures