Madalina Matei
Tweet
(
1944
)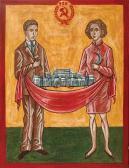 Find artworks, auction results, sale prices and pictures of Madalina Matei at auctions worldwide.
Go to the complete price list of works
Follow the artist with our email alert
Variants on Artist's name :
Mădălina Matei
Some works of Madalina Matei
Extracted between 1 works in the catalog of Arcadja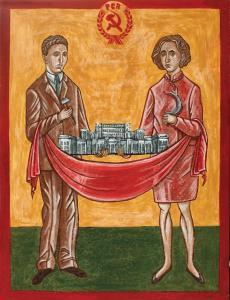 Original 2015
Lot number:
69
Other WORKS AT AUCTION
Description
:
Cult of Personality
[2015]
Mădălina Matei
b. 1994, Bucharest
tempera on wood, 25 × 19 cm, signed and dated on the back, Mădălina Matei, 2015
Mădălina Matei began her studies for a Bachelor Degree in Graphic Arts at the National University of Arts of Bucharest in 2013. \"The Cult of Personality\" is a reflection on a political regime which she didn't experience, a period known exclusively through the eyes and the words of others. This subjective response to communism is ironic and it combines two antithetical elements: the image of the omnipresent dictator, creator of the socialist world, and the Byzantine faith with its immaterial artistic representation. Thus, we have an \"icon of the ruler\" which could easily replace the cheap images presented at the time in institutions, schools and textbooks.