Marco Marziale
Tweet
(
1492
- &nbsp
1507
)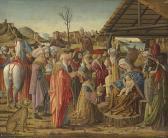 Some works of Marco Marziale
Extracted between 1 works in the catalog of Arcadja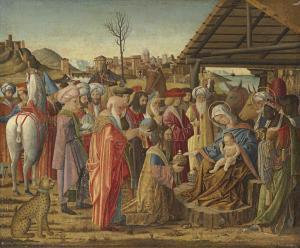 Original
Lot number:
60
Other WORKS AT AUCTION
Description
:
Marco Marziale active Venice 1492-1507
The Adoration of the Magi
oil on canvas
30¾ x 37 in. 76.2 x 94 cm.
Pre-Lot Text
PROPERTY FROM THE VIRGINIA MUSEUM OF FINE ART, SOLD TO BENEFITTHE ACQUISITIONS FUND
Provenance
M. van Gelder, 1914 (according to a label on the reverse).
with Newhouse Galleries, New York, as 'Carpaccio and Studio'.
Virginia Museum of Fine Arts, Richmond.
Literature
P. Grigaut, et al., European Art in the Virginia Museum of FineArts: a catalogue, Richmond, 1966, p. 15, as 'Venetian School,early 16th century'.
B. Fredericksen and F. Zeri, Census of Pre-Nineteenth-CenturyItalian Paintings in North American Public Collections, Cambridge,Massachusetts, 1972, pp. 246, 272 and 629, as 'Venetian School,15th century'.
F. Heinemann, Giovanni Bellini e i Belliniani, Supplemento eAmpliamenti, New York, 1991, p. 17, no. 135ae, fig. 136, as 'latework of Giovanni Mansueti'.
Lot Notes
Marco Marziale is known primarily through two signed and datedaltarpieces painted for churches in Cremona: The Circumcisioncommissioned for San Silvestro and The Virgin and Child enthronedwith Saints Gall, John the Baptist, Roch (?) and Bartholomew forSan Gallo (both National Gallery, London). Comparison to theseworks allows us to safely place the present painting among thedozen or so works ascribed to him.
In this Adoration of the Magi, Marco Marziale shows his hard-edge,descriptive style. His figures are tightly spaced and orderedwithin the composition and are characteristically slightly wooden.The attention to details of costume, in which the artist normallydelighted, is seen here only in the ferronnerie damask silk cloakof the kneeling figure of Melchior and may previously have beenmore prominent in the painting. Marziale does not hesitate toborrow from Bellini's pictorial vocabulary, however. Thearrangement of the Madonna and Child is a direct quote from TheMadonna and Child with saints and donors, known as the PourtalèsMadonna (Pierpont Morgan Library, New York), which was produced inBellini's studio. The Magus Caspar, standing in prayer to the leftof the Holy Family, is first used by Marziale in The Circumcision(dated 1499; Museo Correr, Venice) and again in the Cremonaaltarpiece, but the appearance of the same figure in TheCircumcision from Bellini's workshop (National Gallery, London)suggests that it too was borrowed. The frieze-like arrangement ofthe figures in a panoramic landscape is reminiscent of theAdoration of Magi, once thought to be by Bellini and now given tohis workshop (National Gallery, London).
We are grateful to Professor Peter Humfrey for suggesting theattribution to Marco Marziale, on the basis of photographs (privatecommunication, 2 November 2008). Professor Humfrey dates thepainting to circa 1495-1500.