Andrei Efimovich Martynov
Tweet
(
1768
- &nbsp
1826
)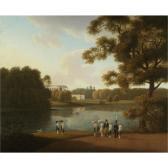 Sotheby's
Nov 27, 2007
Some works of Andrei Efimovich Martynov
Extracted between 2 works in the catalog of Arcadja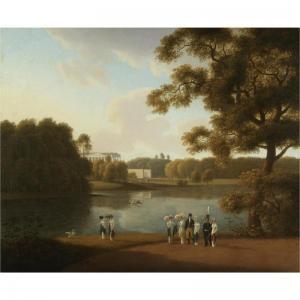 Original 1815
Lot number:
106
Other WORKS AT AUCTION
Description
:
MEASUREMENTS66 by 81cm., 26 by 32in.
DESCRIPTION
signed with artist's monogram and dated 1815 l.l.
oil on canvas
CATALOGUE NOTE
The subject of the present oil painting is taken from one of
Martynov's most celebrated series of landscapes, 'St
Petersburgand its Environs', which consists of fifty
watercolours, several now owned by the Tretyakov Gallery. He
produced them at a period when there was a vogue in both art and
literature for celebrating man's ability to improve nature, as
exemplified in neo-classical panoramas. In 1815 the writer
Batiushkov had published one of his most famous works, 'A short
walk through the Academy of Arts', which laments the preference
of Russian artists for 'dilapidated Paris and smoky London'
to their native cities: 'Often I have watched with regret as
they labour over the hot sky of Naples in the midst of a stinging
frost, tormenting their imagination - and often our eyes'. Although Martynov had followed this well-trodden route to Italy
where he studied for six years, he returned to Russia in 1794; the
landscapes he produced between 1804 and 1810 of southern Russia,
Mongolia and the Baltic regions remain some of his best. He was
also one of the first Russian artists to master the technique of
lithography, a media only recently developed in Bavaria.
The Neo-Palladian Cameron Gallery depicted in the background of
this picture was designed by the Scottish architect, Charles
Cameron, towards the end of Catherine II's reign. The Catherine
Palace was first built in 1717 by a German architect engaged by
Catherine I, though subsequent empresses demolished and expanded
the building to such a degree that in her memoirs Catherine II
called it 'the work of Penelope: what was done today, was destroyed
tomorrow'.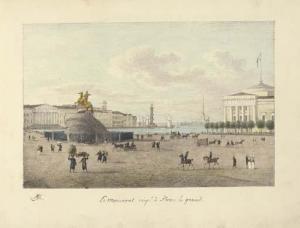 Original
Lot number:
5
Other WORKS AT AUCTION
Description
:
Andrei Efimovich Martynov (1768-1826)
Vues de Saint-Petersbourg dessinées d'après nature et lithographiées
manuscript title, 15 lithographed views, all hand-coloured, contemporary dark blue morocco, metal centre-piece with medals of Peter the Great, Catherine the Great and Alexander I, metal cornerpieces of the Imperial emblem and the emblem of St. Petersburg on both covers, metal clasp, inner gilt dentelles, green silk liners and doublures, g.e., oblong folio, St. Petersburg 1821
Alexandre Sementchenkoff Collection, Christie's, London, 22 October 1987, lot 5.
Lot Notes
These very scarce early Russian lithographs from the series of 60 of St. Petersburg and its environs are titled; Le monument erigé à Pierre le Grand, Vue de la Bourse, Vue de l'Amirauté, Le grand Théâtre, Vue du Senat et du quai Anglais, La maison du Cte. Apraxin, Vue prise de Jardin d'Eté, Le pont des Ecuries, Vue de l'Amirauté et du Boulevard, Vie de l'Amirauté & de la Maison de la Princesse Labanow, La maison de S. E. madame de Ribas (and with manuscript captions), Vue de la Nouvelle Hollande, Vue du pont d'Anichkoff, Vue de la terrasse de la maison de Prince P. Gagarin, Vue du Couvent des Demoiselles nobles. These correspond to the list in Teviashov pp. 137-139, no. 1, ?6, 11, 20, 7, 23, 26, 22, 18, 19, 16, 21, ?29, 34 and 31.