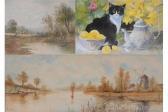 Some works of Samantha Martin
Extracted between 1 works in the catalog of Arcadja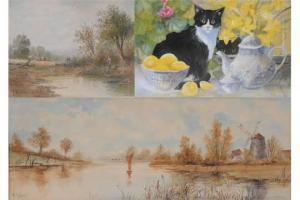 Original
Lot number:
1973
Other WORKS AT AUCTION
Description
:
Samantha Martin "Cottages at Chittenden, Surrey" (exhibited 1923-1934) Signed watercolour, framed, A Stone "Windmill in a river landscape" signed watercolour, framed, 18x45cms, Lesley Holmes "Still life cats and fruit", signed and dated 1993, 22x34cms. (3)
* The description of the above lot by the auctioneer in the language of the auction is the governing description. Any translation using Google translate is a guide only - its accuracy cannot be guaranteed and it is used at your own risk.