Antonio Marinoni
Tweet
Italy
(
1470
- &nbsp
1545
)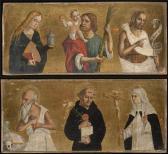 Some works of Antonio Marinoni
Extracted between 1 works in the catalog of Arcadja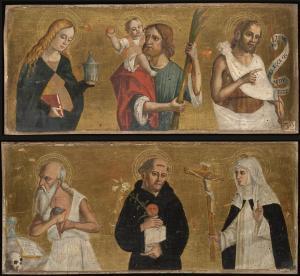 Original
Lot number:
107
Other WORKS AT AUCTION
Description
:
Antonio (?) Marinoni (Desenzano al Serio ? 1470-c. 1545)
Panels from a predella: Saints Mary Magdalen, Christopher and Johnthe Baptist; and Saints Jerome, Nicholas of Tolentino and a FemaleSaint
on gold ground panel
9 x 20 in. (22.8 x 50.8 cm.)
two (2)
Pre-Lot Text
PROPERTY OF A EUROPEAN COLLECTOR
Provenance
Anonymous sale; Sotheby's, Monaco, 5 December 1992, lot 2, asAntonio Marinoni, where acquired by the present owner.
Lot Notes
The Marinoni were a family of painters active in Lombardy,particularly around Bergamo, in the 15th and early 16th Centuries,whose founder Giovanni was born in Desenzano al Serio, c. 1430. Itremains difficult to distinguish the different hands of thedifferent members of the family, who in spite of having almostcertainly being trained locally, were well aware of thedevelopments that were underway in Milan with the arrival ofVincenzo Foppa and the works of Bernardino Butinone and BernardoZenale.
Giovanni's son Antonio, who was presumably trained in the father'sworkshop, is in fact stylistically very close to his brother,Bernardo: the three of them signed the Polyptych of Saint John theBaptist in 1493 (Milan, Museo Bagatti Valsecchi). The workshopremained highly active during the first half of the 16th Century,under Ambrogio, son of Antonio.