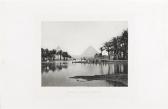 Christie's
Dec 11, 2009
Some works of Auguste Édouard Mariette
Extracted between 3 works in the catalog of Arcadja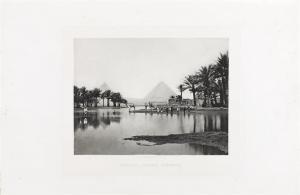 Original
Lot number:
195
Other WORKS AT AUCTION
Description
:
MARIETTE-BEY, Auguste (1821-1881). Voyage dans la Haute-Égypte. Paris and Leipzig: H. Welter, 1893.

2 volumes, 2
o
(481 x 330 mm). 83 photogravure plates (some occasional minor marginal spotting, plate 38 with minor marginal repairs not affecting image). Modern green morocco gilt, spines gilt, original cover labels preserved.

Second edition of Mariette-Bey's stunning survey of Egypt, preceded by the first edition of 1878. A French archaeologist and Egyptologist, Mariette-Bey was sent to Egypt by the Louvre in 1850 to obtain Coptic manuscripts for the museum's collections. Failing in this task, he instead led excavations at Saqqara, Giza, and Thebes and rediscovered the Serapeum. Later, as director of ancient monuments in Egypt and curator of the Egyptian Museum in Cairo, he began the enormous task of conserving the antiquities of Egypt and curtailing the wide-spread exportation of cultural objects. (2)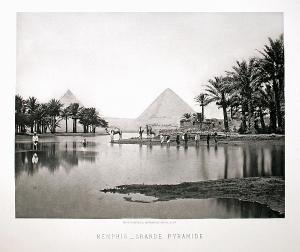 Original 1878
Lot number:
3023
Other WORKS AT AUCTION
Description
:
Voyage dans la Haute-Égypte. Cairo: A. Mourés. Paris: Goupil & Cie., 1878. 2 volumes. Illustrated with 83 mounted heliogravure plates. Folio (482 x 332 mm). Original full red morocco elaborately gilt, all edges gilt. Ex-library with marginal excisions to title-pages and some text pages, markings on text pages, but plates clean (except 1 pl. with marginal numbering), text pages at ends with edges chipped, some very narrow pale marginal dampstain, bindings well-worn at spines and corners, covers rubbed, text blocks coming loose, sold as a collection of plates. First edition. Stunning photographic survey of Egypt, including the most famous sites along the Nile. Goupil's heliogravures attain a high point in photographic reproduction.