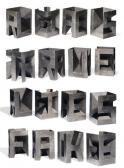 Some works of Laurens Manders
Extracted between 1 works in the catalog of Arcadja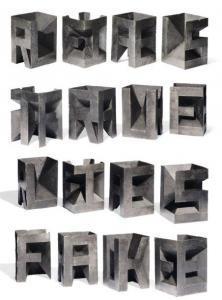 Original 2008
Lot number:
111
Other WORKS AT AUCTION
Description
:
LAURENS MANDERS
Pièce unique Real true lies fake Blocs en
fonte présentant les mots real true lies fake (réel vrai mensonge
faux) selon l'angle de vue du spectateur. Cast iron blocks
presenting the words real true lies fake according to the angle of
sight of the spectator. 2008 H_36 cm L 26,5 cm P 26,5 cm Graphic
design pops up to take 3D form and public space.