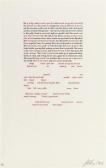 Christie's
May 20, 2009
Some works of Jill Magid
Extracted between 3 works in the catalog of Arcadja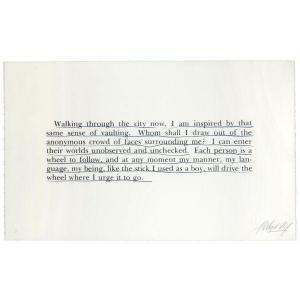 Original 2007
Lot number:
49
Other WORKS AT AUCTION
Description
:
LOT 49
JILL MAGID
AMERICAN, B. 1973
VAULTING (PART OF THE KOSINSKY QUOTES)
800—1,200 EUR
measurements
69.9 x 111.8 cm / 27.5 x 44"
Description
2007
colour silkscreen on paper, edition 1/15
PROVENANCE
donated by the artistcourtesy: Yvon Lambert, New York
EXHIBITED
Some recent solo exhibitions
Tate Modern, London2009/10, 'Authority to Remove'Yvon Lambert, Paris 2009, 'The thicker the glass'Sparwasser HQ, Berlin 2007, 'Evidence Locker'Gagosian Gallery, New York 2007, 'With full consent'Stedelijk Museum Bureau Amsterdam, 2005, 'Libration Point'
Some recent group exhibitions
Artists Space, New York2008, 'The New Normal'FRAC Lorraine, Metz 2007, 'Extimity'Museum Het Domein, Sittard 2006, 'Guestroom #4: AtelierRijksbouwmeester'
LITERATURE AND REFERENCES
Selected publications
Michael Connor [et al.],The new normal, New York : Independent Curators International2008Saskia Bos (ed.), On patrol: contributions to a topical artisticdiscourse , Amsterdam: De Appel 2005
CATALOGUE NOTE
Jill Magid seeks intimate relationship with impersonalstructures. She explores concealed information, disclosure as a'raison d'être' and intimacy in relation to power and observation.As artist, she enters into a close-knit relationship with theindividuals or organisation she selects as her subject matter. Thisconnection often evolves into an intense, personal search for thesubject in question and the organization to which the subjectbelongs. The relations are unique with regards time and place andreflect upon the broader social context from which they havearisen.In recent years Magid has worked with CCTV, police, and forensicidentification experts to further penetrate these systems ofcontrol. In 2005, the Dutch secret service (AIVD) invited Magid tocreate a work of art for their headquarters. She interviewedmembers of the AIVD with the intention of giving a personal face tothe organization, without revealing individual identities. Thecommission resulted in the exhibition Article 12 in 2008.Vaulting is one of a series of quotes from a novel by JerzyKosinski. The system is based on the secret service's practice ofhighlighting text to be erased, and the artist's own system ofmarking.
Jill Magid
was resident artist at the Rijksakademie in2001-2002.www.jillmagid.net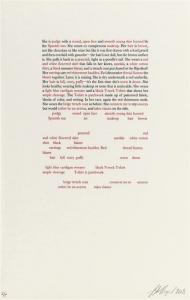 Original 2008
Lot number:
81
Other WORKS AT AUCTION
Description
:
Jill Magid (AMERICAN, B. 1973)
18 Spies: Contact
signed and dated 'Jill Magid 2008' (lower right), and numbered '2/5' (lower left)
red and black printed ink on paper, unframed
43 x 28 cm.
Executed in 2008. This work is number two from an edition of five.
Pre-Lot Text
de Appel
Lot Notes
Jill Magid lives and works in New York and Amsterdam. She studied Fine Art at Cornell University, Ithaca, New York and received a Masters of Science in Visual Studies at the Massachusetts Institute of Technology, Cambridge. She was a resident artist at the Rijksacademy in Amsterdam 2000-02. Working in a variety of media, including literature, video, photography, sculpture and performance, Magid seeks intimate relations with impersonal structures. She is intrigued by hidden information, being public as a condition for existence, and intimacy in relation to power, manipulation, and observation. Intrinsic to the nature of her work is the establishment of a bond with the individuals she chooses as her subject matter. This association often evolves into an intense, personal exploration of herself, her subjects, and the organization of which they are a part. In her acclaimed recent project Article 12 at Stroom, The Hague and the Dutch Secret Service (2008), she researched 'the human face' of the secret service. Other recent solo's were at the Centre D'Arte Santa Monica, Barcelona, Gagosian Gallery, New York, sparwasser hq, Berlin (all 2007). Groupshows with her work were on view at ICI and Artists Space, New York (2008), FRAC, Lorraine (2007), Museum of Contemporary Arts Taipei (2006) and the Liverpool Biennial (2004). In 2005 she exhibited at de Appel in On Patrol.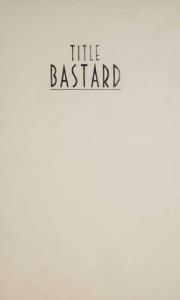 Original 2010
Lot number:
213
Other WORKS AT AUCTION
Description
:
Jill MAGID (né en 1973)
Bastard title (the emperor) 2010
Stylo à bille sur papier, 102 x 66,5 cm

Provenance : Galerie Yvon Lambert, Paris
Collection particulière, France