James Macdonald
Tweet
(
1831
)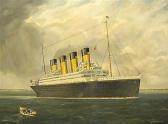 Some works of James Macdonald
Extracted between 1 works in the catalog of Arcadja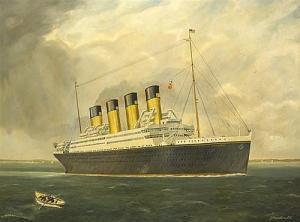 Original -
Lot number:
148
Other WORKS AT AUCTION
Description
:
Description:

James MacDonald oil painting: Britannic at Sail

HMHS Britannic was the third and largest Olympic-class ocean liner of the White Star Line. She was the sister ship of RMS Olympic and RMS Titanic, and was intended to enter service as a transatlantic passenger liner. She was launched just before the start of the First World War and was laid up at her builders in Belfast for many months before being put to use as a hospital ship in 1915. She was shaken by an explosion, caused by an underwater mine, in the Kea Channel off the Greek island of Kea on the morning of 21 November 1916, and sank with the loss of 30 lives.

h:36 w:48 in.